We've chosen these ten routes as they are at their best on a crisp winter's day.
Climb up high for views of snow-capped mountains or discover the legend of Wales's very own Saint Valentine.
The routes include two all-ability trails and several shorter walks suitable for families with young children.  
Plan your trip
You can download any of these routes free of charge onto your Apple or Android device from Viewranger or TrailZilla. (We recommend that you download routes and maps before leaving home so that you can use them without the need for a mobile signal)
The PlacesToGo app shows you where you can go and what you can do in Wales's public forests and National Nature Reserves. The PlaceTales app includes audio trails and folk tales to bring these places to life. Find out how to download the free apps Places to go and Place Tales apps before you set off on your trip
Traveline Cymru is a one-stop-shop for information about travel by bus, coach and train in Wales. Find all the information you need about public transport in one place on the Traveline Cymru website
Enjoy your visit
The Countryside Code helps you respect, protect and enjoy the countryside, enabling you to get the most out of your visit.
It provides you with helpful advice about:
Preparing for your trip
Keeping yourself and others safe
Ensuring the countryside remains a beautiful place that everyone can enjoy
Pick your route
Route 1: Ystwyth Gorge Walk, Hafod Estate, Mid Wales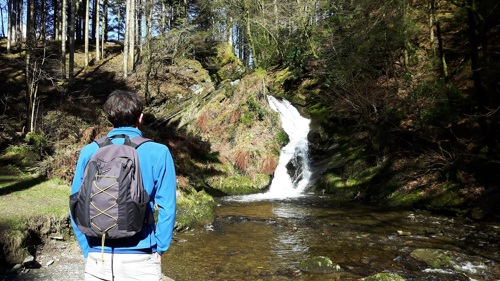 Follow in the footsteps of early tourists in search of "wild nature" at the Hafod Estate tucked away in a remote location near Aberystwyth. The Ystwyth Gorge Walk is a spectacular route all year round but crossing the wonderfully wobbly chain bridge is even more exciting during winter, when the river is in full flow. If you want to explore some more of this historic landscape, choose from the four other waymarked walks that take in the waterfalls, unique bridges and stunning views.
Length: 1 mile (1.5 kilometres)
Terrain: All the routes are strenuous and include climbs and descents along the way. Some have steep drops beside the path and some have bridges to cross. The routes are waymarked and there is information onsite with more details
Suitable for: Walkers
Start and finish: Hafod Estate car park
Getting there: The Hafod Estate is twelve miles south east of Aberystwyth on the B4574. The nearest train station is in Aberystwyth
Find out more
Route 2: Jubilee Tower Circular, Coed Moel Famau, North East Wales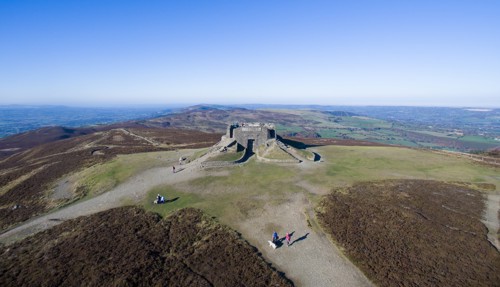 Warm up with a steep but steady climb up Moel Famau to the Jubilee Tower. The views across north Wales from the top are particularly special in winter with a dusting of snow or frost. The waymarked trail returns to the car park through mixed forest and open countryside. Moel Famau is the highest summit in the Clwydian Range Area of Outstanding Natural Beauty. Find out more about the area in the Loggerheads Country Park which is nearby.
Length: 3.5 miles (5.5 kilometres)
Terrain: The trail has some steep sections
Suitable for: Walkers
Start and Finish: Coed Moel Famau car park
Getting there: Coed Moel Famau car park is three miles south west of Mold, signposted off the A494. There is a parking charge. An annual parking permit is available for several car parks in the Clwydian Range. The nearest train station is in Buckley
Find out more
Route 3: Stackpole Walk, Stackpole, West Wales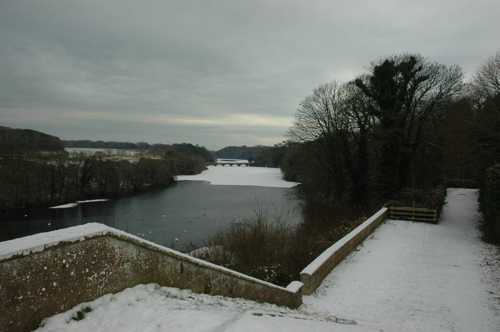 Stackpole National Nature Reserve is a great place to spot wintering birds and seabirds like gannets and choughs as it packs in so many habitats in a relatively small area. The Stackpole Walk starts in the wooded shelter around Bosherston Lakes where you'll see different species of duck before setting off for Stackpole Quay. The route then follows the Pembrokeshire Coast Path along windswept limestone cliff tops to one of the area's finest beaches at Broad Haven South before returning to the more gentle landscape of Bosherston with its 19th century lily ponds. If you visit during a winter weekend, you can enjoy refreshments at the Stackpole Quay tea room.
Length: 5 miles
Terrain: This ranges from the accessible lakeside path around Bosherston Lakes to more challenging and undulating terrain along the Pembrokeshire Coast Path
Suitable for: Walkers
Start and finish: Bosherston National Trust car park. There are other car parks on the National Trust estate
Getting there: Bosherston and Stackpole National Nature Reserve is five miles south of Pembroke. The main access is via the B4319 Pembroke to Castlemartin road. The National Trust own and operate the car parks and there is a parking charge. The nearest train station is in Pembroke and there are bus stops at Bosherston, Stackpole Quay and Broad Haven
Find out more
Please check the National Trust website for further information on the Stackpole estate including parking, the extensive network of footpaths, accessibility and the opening times of the tea room.
Photo credit: Mike May, National Trust
Route 4: Sychryd All-ability Trail, Dinas Rock, South East Wales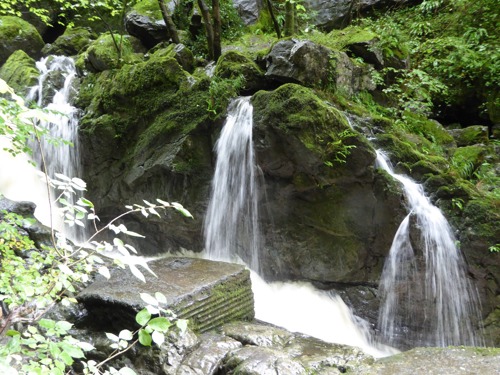 If you use a wheelchair or are pushing a buggy, this is a great trail to enjoy some impressive views. The route winds its way through a wooded gorge alongside the river down to the Sgydau Sychryd cascades which are in full force during the winter months. There are also views across the river to a spectacular limestone rock formation known as Bwa Maen. The trail is in the heart of Waterfall Country and there is nowhere else in Wales with so many spectacular waterfalls in such a small area.
Length: 0.5 miles (0.75 kilometres)
Terrain: The trail is mostly compacted gravel and earth which can get muddy
Suitable for: Walkers and robust wheelchairs and buggies
Start and finish: Dinas Rock car park
Getting there: Dinas Rock car park is thirteen miles north east of Neath off the A465. Follow the A465 leaving at the Onllywn exit for Glynneath. At the end of the slip road, follow signs for Pontneddfechan and the Waterfalls Centre on the B4242. Follow signs for waterfalls through Pontneddfechan village. Take the right fork by the inn, continue for one kilometre. The car park is beyond the bus turn-around point across the bridge over the river. The car park can be very busy at times as this is a popular area for outdoor centres
Find out more
Route 5: Pont Llogel Trail, Dyfnant Forest, Mid Wales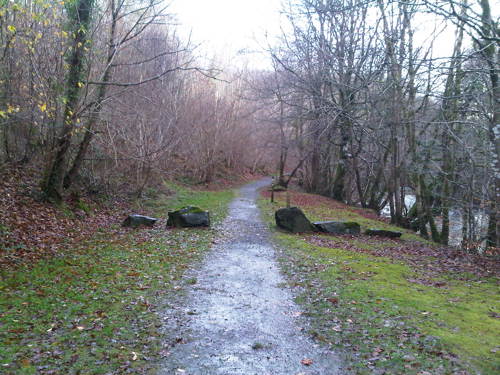 If your New Year's resolution is to walk a long distance footpath, here's your chance to have a taste of one of the three national trails in Wales. The riverside Pont Llogel Trail follows part of Glyndŵr's Way on the edge of Dyfnant Forest. The national trail is named after Owain Glyndŵr, the prince who fought for Welsh independence and who once rode through these rolling hills and lush green valleys. Nowadays, Dyfnant Forest is well known for the Rainbow Trails which offer facilities for modern day horse riders and carriage drivers.
Length: 1 mile (1.6 kilometres)
Terrain: The Pont Llogel Trail is a sheltered waymarked walk along the river. You can either return the same way or use the high level return path if you don't mind steep sections and flights of steps
Suitable for: Walkers
Start and finish: Pont Llogel car park
Getting there: Pont Llogel is about twenty miles west of Welshpool. Take the A458 from Welshpool to Dolgellau and turn on to the B4395 at Llangadfan to Lake Vyrnwy. After about three miles, you reach the hamlet of Pont Llogel and the car park is on the right just over the bridge
Find out more
Route 6: Saint, Sand and Sea Trail, Newborough, North West Wales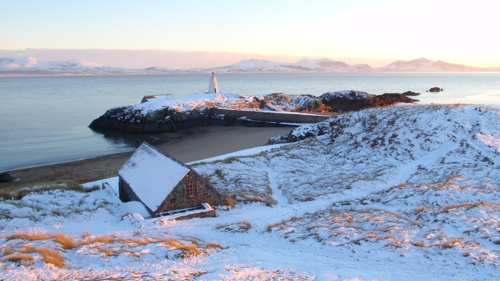 Discover the legend of Wales's own Saint Valentine on a romantic walk on Ynys Môn (the Isle of Anglesey). The Saint, Sand and Sea Trail follows woodland paths before heading on to the iconic Ynys Llanddwyn, part of the magnificent coastal dune system of Newborough Warren and Ynys Llanddwyn National Nature Reserve. Dwynwen, the Welsh patron saint of lovers, is said to have retreated here in the 5th century to live the life of a hermit after falling in love, even though her father had arranged for her to marry someone else.
Length: 5 miles (7 kilometres)
Terrain: Ynys Llanddwyn can be cut off at high tides (follow the high tide diversion sign) and the terrain is rocky with uneven grassland. The rest of the trail is on woodland tracks and soft sand dunes
Suitable for: Walkers. Some sections are accessible by buggies and robust wheelchairs
Start and finish: Newborough beach car park
Getting there: Newborough village is reached by the A4080. From the centre of the village, take the minor road opposite the Post Office down to Newborough beach car park, signposted to Llanddwyn. Follow this road until you reach a barrier (where you need to pay the £4 parking charge) and then follow the road down to the beach car park
Find out more
Route 7: Penrhos Mountain Trail, Coed y Brenin Forest Park, North West Wales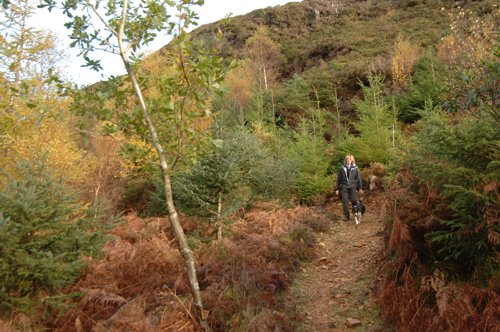 Follow the green waymarkers through woodland and up the hillside to the heather and gorse-clad summit of Penrhos mountain. Your reward for the hard slog up will be stunning views across the snow-capped peaks of Snowdonia National Park. This circular trail returns to the car park which is a short drive from Coed y Brenin Visitor Centre where you can warm up in the café.
Length: 3 miles (4.5 kilometres)
Terrain: This is a strenuous walk and the trail follows a number of steep footpaths on an unmade and uneven surface
Suitable for: Walkers
Start and finish: Ty'n y Groes car park
Getting there: Ty'n y Groes car park is signposted from the A470, near the village of Ganllwyd
Find out more
Route 8: Hafna Miners' Trail, Gwydir Forest Park, North West Wales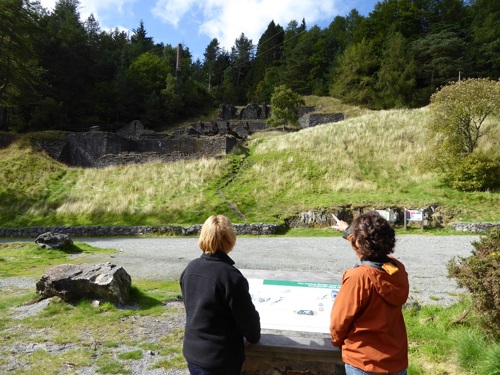 The picturesque village of Betws-y-Coed in Snowdonia National Park is a popular spot for visitors today but, back in the late 19th century, the area was dominated by lead and zinc mining. Plan your visit here during the quieter winter months and discover the mining legacy of this once industrial landscape. The Miners' Trail takes you through several different mines, all with their own story, as it threads its way through Gwydir Forest. You'll pass deep cuttings, capped mine shafts and tunnel entrances along with the remains of long abandoned mills. After you have had your fill of history, there are plenty of cafés and pubs in Betws-y-Coed to warm up with a cuppa.
Length: 2 miles, (3.6 kilometres)
Terrain: Most of this trail follows forest roads and rough narrow paths, with some steep sections and steps
Suitable for: Walkers
Start and finish at: Hafna car park
Getting there: Hafna is 1.5 miles west of Llanrwst. From the B5106 at Gwydir Castle, take the minor road into the forest, signposted for Geirionnydd. The nearest train station is in Llanrwst
Find out more
Route 9: Afon Irfon All-ability Walk, Irfon Forest, Mid Wales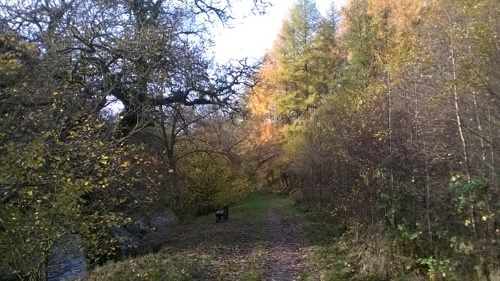 Head out along this waymarked level trail which follows the River Irfon on part of its journey from the Cambrian Mountains down to the River Wye at Builth Wells. You can enjoy both the views and the sound of the river along this easy access route as it passes through spruce-scented conifer woodlands. The trail is a few miles from Llanwrtyd Wells which claims to be the smallest town in Britain but which has several pubs and a café where you can warm up after your walk.
Length: three quarters of a mile (1.2 kilometres)
Terrain: The Afon Irfon Walk is an easy, level trail with no steps that is suitable for all. There are a number of benches along the way and the route returns to the car park along the same path. There is an option for walkers to follow a one mile circular route which leaves the hard-surfaced level path and goes up a gentle incline away from the river and then returns to the car park along a quiet forest road
Suitable for: Walkers, wheelchairs and buggies
Start and finish: Pwll Bo car park
Getting there: Pwll Bo car park is three miles north west of Llanwrtyd Wells. Follow the signs for Abergwesyn off the A483 and the car park is along this road, before you reach Abergwesyn village. The nearest train station is in Llanwrtyd Wells
Find out more
Route 10: Eagle's Nest Trail, Wyndcliff Wood, Wye Valley, South East Wales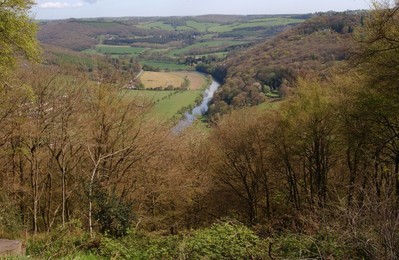 With the trees losing their leaves and revealing more of the scenery beyond, winter is a great time of year to do a walk with a view. There's a bit of a climb to the viewpoint on this walk but the panorama from the parapet is well worth it – on a clear day, you can see seven counties! Once you've caught your breath, you can admire the River Wye snaking around the valley 700 feet below you and try to spot Chepstow Castle in the distance. The Eagle's Nest Trail passes through Wyndcliff Wood which is full of leaves crunching underfoot. These woodlands are part of the wider Wye Valley Area of Outstanding Beauty which is an internationally important protected landscape.
Length:

1½ miles (2 kilometres)

Terrain:

This trail goes over ground and up steps that are uneven and rocky. It is a steep climb up the 365 steps from the Lower Wyndcliff car park to the Eagle's Nest

Suitable for:

Walkers

Start and finish:

The Eagle's Nest Trail starts from the Lower Wyndcliff car park. The slightly easier trail to the viewpoint starts at the Upper Wyndcliff car park
Find out more