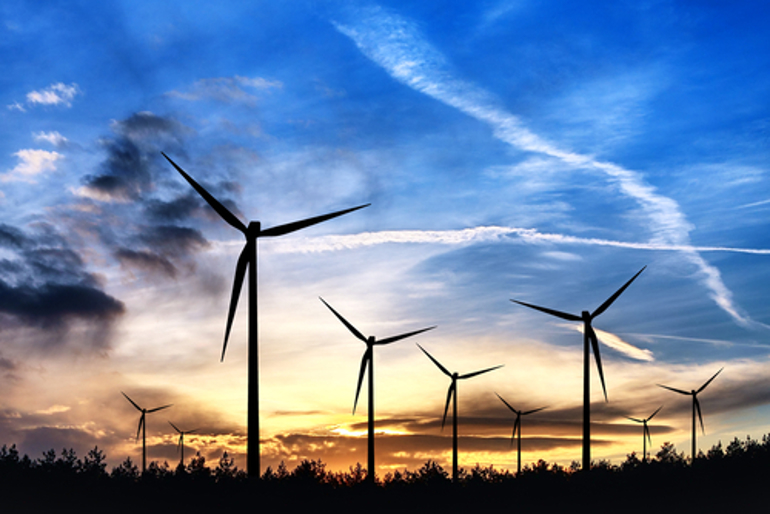 Wind Energy Programme
The Natural Resources Wales Wind Energy Programme aims to integrate wind farm development into the sustainable management of the Welsh Government Woodland Estate.
The Wind Energy Programme works with selected Developers (Option Holders) to deliver a significant contribution to the Welsh Government's onshore wind energy target.
Wind Energy Projects
The following section provides updates on the progress of each of the Wind Energy Projects as of June 2018.
Clocaenog Forest (up to 32 turbines / up to 96MW)
Developer – Innogy Renewables UK Ltd
Construction at Clocaenog Forest wind energy project began in earnest late March 2018. Jones Bros of Ruthin, the Principal Contractor, has fully mobilised with site compound offices established in the north and south of the site, batching plant built and water management mitigation measures in place ahead of construction of the 27 turbine bases, which is expected to commence in June 2018.
For more information on this Project please visit the project page at Innogy Renewables UK Ltd
Dyfnant Forest
Dyfnant Forest is within Welsh Government's Strategic Search Area B and NRW is keeping the vacant Option under review.
Nant y Moch
Developer – Vattenfall
Vattenfall hold the Option Agreement for SSA D - Nant  y Moch and continue to explore the potential of the site within the area covered by the Option Agreement. 
Brechfa Forest East
Brechfa Forest East is within Welsh Government's Strategic Search Area G and has a Planning Authority consented onshore energy scheme.
NRW is considering the best way forward for realising this development.
Brechfa Forest West (up to 28 turbines / 57.4MW)
Developer – Innogy Renewables UK Ltd
Brechfa Forest West Wind Farm is on track to becoming fully operational this summer. The wind farm first started producing renewable energy on Thursday 18 January 2018, just over a year after the start of construction.
All turbines have been erected, testing and commissioning is taking place across the site. The reinstatement works are progressing, with the focus on capping of roads and Natural Resources Wales is working closely with innogy to enter into the Operating Lease period for 25 years. 
NRW, innogy and Carmarthenshire County Council have been working together to ensure that the Habitat Management Plan can be delivered successfully over the lifetime of the Wind Farm.
On other news Brechfa Forest West Wind Farm has been shortlisted for Construction Excellence in Wales' Sustainability Award and Business Green's Renewable Energy Project of the Year Award.
Community fund Update
Brechfa Forest West Wind Farm will deliver a community investment package of £459,200 per annum, index linked, that will become available once the wind farm is fully operational in 2018.  This will result in a total investment of more than £11 million over the lifetime of the wind farm, expected to be 25 years. Innogy has been working with local communities and key stakeholders to tailor the fund to maximise the effectiveness of this considerable investment. The community fund administrator contract is in the process of being finalised and will be signed shortly. Once this has been completed Innogy will be able to share details of the fund administrator and next stages in terms of the launch of the community fund.
For more information on this Project please visit the project page at Innogy Renewables UK
Pen y Cymoedd (76 turbines / 228MW)
Wales's largest onshore wind farm is now fully operational. Natural Resources Wales is working closely with Vattenfall personnel on site to complete reinstatement and enter into the operating lease period for 25 years. Pen y Cymoedd expects to produce enough power annually to meet the electricity demand of more than 188,000 UK households, and will more than meet the domestic demand of host local authorities Rhondda Cynon Taf and Neath Port Talbot. Over the lifetime of the project it is expected to save 6.4 million tonnes of CO2.
Vattenfall is also constructing a battery storage scheme on site. The 22MW system – believed to be the largest co-located battery and wind farm project in the UK – will provide a rapid-reaction grid reliability service to National Grid, known as Enhanced Frequency Response.
To gain a better understanding of the site and to see some of the work that has already taken place, some aerial footage of Pen y Cymoedd is available to view.
Pen y Cymoedd Wind Farm Community Interest Company have now been set up to administer the Community Fund. More information can be found here: https://penycymoeddcic.cymru/home/.
Whilst public access is still allowed within the forest area, walkers and mountain bikers are encouraged to look out for banksmen, signage and noticeboards which convey information about onsite activity. Working areas can be found on the updated map.
For more information on this Project please go to the Vattenfall Project page.
Contact Us
If you have any questions about the Wind Energy Programme or Projects, please e-mail: energydeliveryprogramme@naturalresourceswales.gov.uk