Richard Parks supports Wales Outdoor Learning Week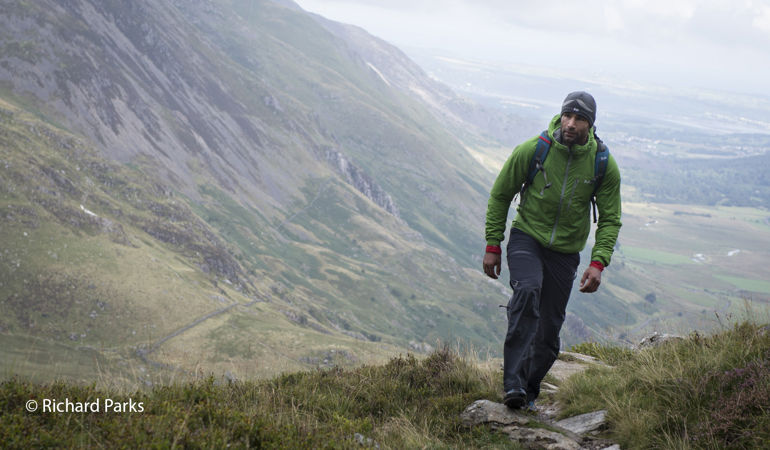 This week, Natural Resources Wales launches the first ever Wales Outdoor Learning Week with the Wales Council for Outdoor Learning.
It celebrates all the wonderful outdoor learning which takes place in Wales and aims to inspire teachers, learning groups and families to make outdoor learning part of school and family life.
Being outdoors, connecting with nature and the natural world is good for us. Evidence shows that it improves health and wellbeing and is good for the environment, building a lifelong connection and understanding of the great outdoors.
One person who understands this is Richard Parks. Following the devastating injury which curtailed his international rugby career, it was the great outdoors in Wales which helped him on his journey to becoming a world record holding athlete.
Here is his story…
The outdoors saved my life. Sometimes, I say that mountains saved my life in reference to my 737 Challenge but at its core, it's the outdoors.
This is a bold statement however, it's true. I tore the cartilage from my right shoulder, rendering it ultimately arthritic. The period following the news that I would never be able to play rugby again was my darkest, with the darkest thoughts. Rugby was my livelihood – I had played for Wales, won cups with Pontypridd and Leeds - but more importantly it was how defined myself. That loss of self-identity was terrifying as I wrestled the reality that my life would never be the same again. I have perspective now, we will all have those difficult life periods and often they elicit opportunities or skills that we wouldn't have in better times however, at the time it was terrible.
After 3 weeks recovering from my second surgery to repair my shoulder, wrestling those dark thoughts, with the support of my family I found the courage to go outside. This might seem trivial, but I remember the anxiety of facing the world again. I walked with Ben, my Weimaraner dog, along the Monmouthshire and Brecon Canal to Fourteen Locks. I was staying with my parents who live in Newport, Gwent. I soon became lost in the outdoors and my emotions began to settle.
Those first few hours surrounded by woodland and wildlife, not to mention the canal as one of the wonders of the Industrial Revolution, turned into days and weeks exploring Wales' outdoors.
The time outside immersed in nature helped ground my emotions and enabled me to self-reflect. Being active again, although it wasn't 'high performance', felt amazing. I've never looked back!
In the two years following, I spent over 10 months in my tent on expedition somewhere around the world amassing a lifetime of outdoor and mountaineering skills and experiences.
With the support of my incredible team, this journey culminated in 2011 when I completed my 737 Challenge, becoming the first person to climb the highest mountain on each of the world's 7 continents and stand on all 3 poles (The North and South Poles and the summit of Mt Everest) within a calendar year. Completing it in under 7 months, creating a new Guinness World Record.
For the last decade I have created world first projects, with education at their core, in some of world's most wonderful corners, from filming Extreme Wales Series 1 and 2 for the BBC to becoming the first Welshman to ski solo and unsupported to the South Pole and my recent Team Quest project in Antarctica.
There is no place like home though! We are blessed here in Wales to have some of the world's most wonderful outdoor adventures on our doorstep.
Around every corner, in every part of Wales, there is magic, history and fun things to learn in the outdoors. My favourite mountain is Cadair Idris, I've run up it, I've cycled up it, I've slept on it (and despite the legend, I'm not a poet although If I was I wouldn't know it, and I'm still relatively sane!) and I've experienced every spectrum of weather on it! I was amazed to learn of its volcanic origins.
The river Teifi is one of Wales' longest rivers, reaching the Irish Sea at Cardigan but it starts Llyn Teifi in the Cambrian Mountains. Along it's route it feeds Cors Caron.
Cors Caron is a National Nature Reserve and one of Britain's last raised bogs. I became a kid again when filming there as part of my Extreme Wales series. The science, history and wildlife were mesmerising. I still tell my friends of how Sphagnum moss has been used to treat wounds throughout the centuries.
Wales' outdoors is a special place to nurture our innate sense of curiosity – for young people and us older ones too!
This is what I love about our home, the depth of adventures that can be had – whether we're just out for a walk or pushing ourselves – with a little effort there's so much to learn and inspire us.
What makes me sad sometimes is that we don't always embrace and utilise what's on our doorstep nearly enough. It was this passion that led to the Extreme Wales programmes and why I'm a proud and active Visit Wales ambassador. Not just to showcase Wales to the world but to inspire that curiosity to explore Wales from within. 
Having just become a parent I'm constantly reflecting on how to best prepare my son for the world that he's inheriting from us.
Something that my parents gave to me and what Jo and I feel strongly about giving our son is a relationship with the outdoors.
From camping to racing motorbikes, I was always happiest outside! A connection with the outdoors is the first step in developing an appreciation of our place and responsibility within the environment. There is so much that we can learn about ourselves and our world from spending time outdoors. It really is a great classroom!
Time outdoors is an important part of our family life and it's wonderful to begin teaching our son safe and responsible ways to enjoy Wales. On a personal note I'm finding time outdoors away from technology and deadlines more and more therapeutic.
I am a Dad, athlete, author, television presenter and business coach. I don't dwell too much on the past, but I sometimes wonder what my life would've become if it wasn't for Wales' wonderful outdoors.
My relationship began as child through my parents and then again following my rugby injury, it's awesome to help others find their own journey.
The outdoors saved my life, and it's with pride and pleasure that I'm working with Natural Resources Wales to share Wales' Outdoor Learning week.