2018 – Year of the sea (and coast!)
Each month our teams write a blog about the special places they look after. Here, Rhodri Dafydd, Senior Reserves Manager for Morfa Harlech and Morfa Dyffryn in North Wales, takes you on a walk along these beautiful beaches….
One of the advantages of being a Senior Reserves Manager without a 4x4 vehicle, is that I walk everywhere on the reserves.
At the end of the day, I often find myself walking back to my van from the northern end of Morfa Harlech or Morfa Dyffryn National Nature Reserves (which is at least an hour of fast walking in both cases). One must be in the right frame of mind for this – and if it's a stormy, rough day, with the prevailing sou'wester in my face – it means battening down the hatches, putting the head down and getting back as quickly as I can.
However, almost without exception, something will grab my attention, and the walk back takes twice as long as it should!
Visiting the seashore is one of the best ways to enjoy the sea
We are so fortunate here in Wales to have a wonderful coastline on three sides, and a coastal footpath that stretches 870 miles. The coastline itself being even longer of course when you consider all the bays, coasts, beaches etc.
Be it a rocky headland or a sandy beach – these wonderful sites exist between two worlds, the terrestrial and the maritime. In one direction lies the great blue unknown, in the other the more familiar; the interplay between them depends on time, tide and weather.
Watching the continual war between land and sea, where the power of huge waves can decimate cliffs and sweep huge sand dunes away (as they did over New Year!) is a cause of constant awe.
And below the waves, lies amazing wildlife for us to discover. Wildlife which is usually almost invisible to us and can be so easy to forget – even as amazing TV shows like the recent 'Blue Planet 2' beam images straight to our homes.
After a big storm we may get a glimpse of some of these marine organisms on shore.
As mentioned at the outset, I look after two large sand dune and beach systems, Morfa Harlech and Morfa Dyffryn National Nature Reserves in Meirionnydd, and over the years I have seen a variety of creatures wash up.
Unfortunately, I also see so much human litter, with everything from fishing nets to fish boxes, buoys and plastic bottles, to fridges and toys. It is a never-ending unsightly nuisance - and more than this an environmental disaster, and something that is finally getting a lot more attention.
We do conduct beach cleaning days on many of our National Nature Reserves. If you would like to help us, keep an eye on our social media pages to find out more about our events.
But going back to the wildlife. I find the usual biological strandings, like seaweed and kelp, starfish and shells, mermaid's purses (the eggs of dogfish and rays) and jellyfish in their hundreds.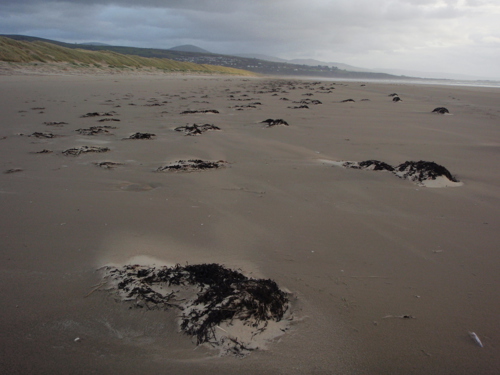 Occasionally, the odd unexpected creature can be found
Once, when walking back to my van, I spotted a triggerfish, normally found in warmer waters. Another time I saw a conger eel, it lay before me like a big, fat, long grey snake, mouth open and baring rows of sharp teeth.
After autumn storms I will find grey seals washed up. These are often young pups who couldn't survive the rough seas, and may have been carried by the tides from another of the National Nature Reserves in Pembrokeshire.
I've also found a common dolphin, and a Risso's dolphin washed up (the latter feed on the reefs offshore within the Pen Llyn a'r Sarnau SAC and are rarely seen close in).
Strandings like this should always be reported to Marine Strandings Wales or the Cetacean Stranding Investigation Programme (CSIP) who will investigate the cause of death and gather vital samples and data.
CSIP studied a bottle-nosed dolphin I found on the Llŷn peninsula. It was so unusual to find a fresh, healthy male washed up on the beach, and we discovered that the poor creature had choked on a fish and had drowned!
But my most interesting find has been the Kemp's Ridley sea turtle, washed up a just before Christmas a few years ago.
It shared a space in my freezer at home over the festive period, until I could take it up to our Marine Team freezer in Bangor in the New Year – from where it then made its way to London. It was the size of a large plate and tiny in comparison to the 914kg leatherback turtle found on Harlech beach in 1980 – the largest turtle ever recorded which now resides in a glass case in the National Museum in Cardiff.
And finally, at the end of last year, I saw some organisms that I have been looking out for several years – the famous Portuguese men o'war'. This is a colony of symbiotic creatures which look like a small pink balloon with long, blue tentacles which are poisonous and very dangerous!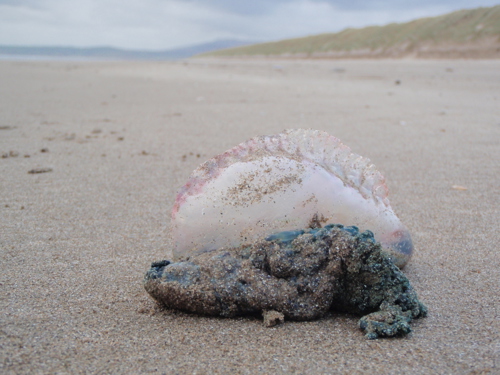 After a quick phone call to Gwynedd Council's Maritime department to inform them, I found out that a number had been washed up around the coast of Wales. Woe betide anyone who touches one of these!
With it being the 'Year of the Sea' what better excuse do you need to head to the seaside?!
Despite the occasional danger, the coast is a wonderful place to be at any time of year. One just needs a healthy dose of respect for the sea, and with this you'll never have a bad day at the coast.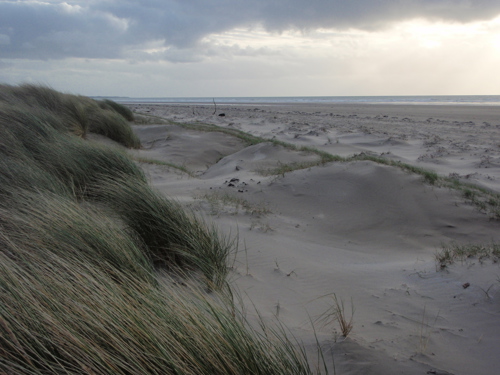 Visiting Morfa Dyffryn and Morfa Harlech
We welcome careful visitors to these special places, and you can find out more about the area via our website.