Exploring my role and the sites we manage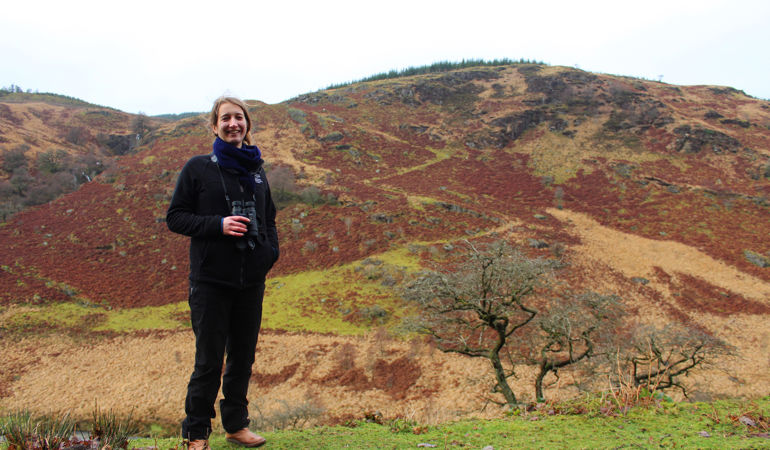 Each month our teams write a blog about the special places they look after. Here, Pippa Hardman, talks about her new role as Reserve Manager.
As a new Reserve Manager people often ask me two questions: what does the job involve; and which is my favourite site?
I am excited and privileged to be part of a team looking after some of the most important wildlife sites in Wales. Working with a team of Senior Reserve Managers to cover 16 National Nature Reserves (NNRs) across South Wales, there is lots to be done to look after such a wide array of special places.
What does my job involve?
I have quickly learnt no two days are the same and the day to day challenges are diverse.
The job includes monitoring features of the reserves such as bird, butterfly or plant populations, carrying out ongoing conservation management, or working with our graziers, stakeholders and contractors to ensure the habitat features and species are protected.
Another important part of my role I am passionate about is making sure people have safe access so these special places can be enjoyed and studied, whilst also ensuring the very features people are coming to see are protected now and for the future.
Which is my favourite National Nature Reserve?
Although I have been in the role for a few months now, I am not sure I would ever be placed to pick a favourite. Bit of a cop out of an answer I know!
Each NNR is unique in its diversity, from the species and habitats they host to the landscapes they sit within.
I've experienced this in getting to know two of the reserves we manage: Coed y Cerrig NNR and Craig Cerrig Gleisiad a Fan Frynych NNR.
Coed y Cerrig NNR: a little hidden gem
Coed y Cerrig sits tucked away at the southern end of the Black Mountains, just north of Abergavenny. Sitting in a narrow valley shaped by glaciers, this small site punches above its size in the diversity of woodland habitats it supports.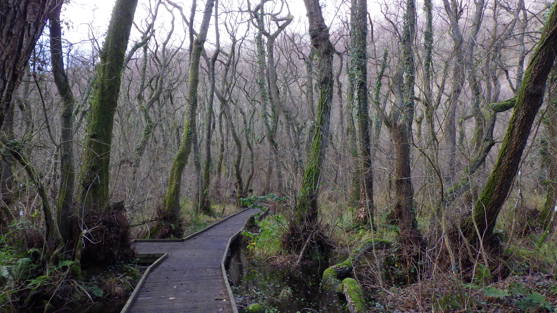 Thought to be one of the best examples of alluvial woodland in the UK, this wet alder woodland is also designated a European Special Area of Conservation. It lies along the moist valley floor of the site where plant species such as marsh marigold, herb-paris and the uncommon marsh fern can be found. A boardwalk suitable for wheelchair users on site allows visitors to get in amongst this seldom seen habitat.
On the northern side of the site a second marked trail leads through the steeper section of the valley and a mixed woodland of elm, ash and hazel before reaching the plateau of oak and beech growing at the top of the reserve. Spring time here puts on a show of blue bells with autumn yellowing leaves being just as magnificent in their colourful display. From spring onwards, dog's mercury, wood anemone, primrose, lords-and-ladies, nettle-leaved bellflower and early-purple orchid can also be enjoyed. Also, whilst hard to see due to their nocturnal and arboreal lifestyles one of our most secretive species, the hazel dormouse, has been recorded at the site.
Craig Cerrig Gleisiad a Fan Frynych National Nature Reserve: wide open spaces
Situated south of Brecon just off the A470 you'll find yourself lost in the dramatic natural amphitheatre of Craig-Cerrig-Gleisiad's soaring craggy cliffs and the lofty exposed moorlands of Fan Frynych. Protected for the fascinating geological, biological and archaeological features the scale of this site is best enjoyed on a day with clearer skies!
Carved out by a glacier around 12,000 years ago, this dramatic mountainous setting is now home to over 300 plants species, including rare arctic-alpine flowers and whitebeams amongst the vertical cliffs and woodland. Over 80 different bird species either visit or breed in the reserve including peregrine falcons, ravens, merlins and red kites. Summer visitors can also include wheatears, ring ouzels, skylarks, whinchats and tree pipits.
The site has a long history and across to the Fan Frynych plateau evidence of an Iron Age or Romano-British settlement can be found, as well as the Roman road of Sarn Helen. Evidence from Medieval farmers, who spent their summers here with grazing stock, can be seen with hollows from which stone was quarried for roofing and walling hundreds of years ago.
Today the site, which also sits within the Fforest Fawr UNESCO Global Geopark, can be enjoyed via two marked loops, off the A470, to take in this dramatic landscape. Longer walks can be linked in with The Beacons Way crossing the site and over to the plateau of Fan Frynych and across to Craig Cwm-Du.
Visiting our diverse NNRs
Diversity is a common theme linking both my role as a Reserve Manger and the NNRs themselves. The challenge for me is to manage the tasks I face day to day, while preserving the diversity in the sites we manage.
Whilst I enjoy the diversity of the role anybody who visits these sites can go out and enjoy the diversity of the species, habitats and landscapes the NNRs seek to protect. I therefore recommend you find the time to get out there and take look!