Fantastic limestone woodland and a mysterious disappearing lake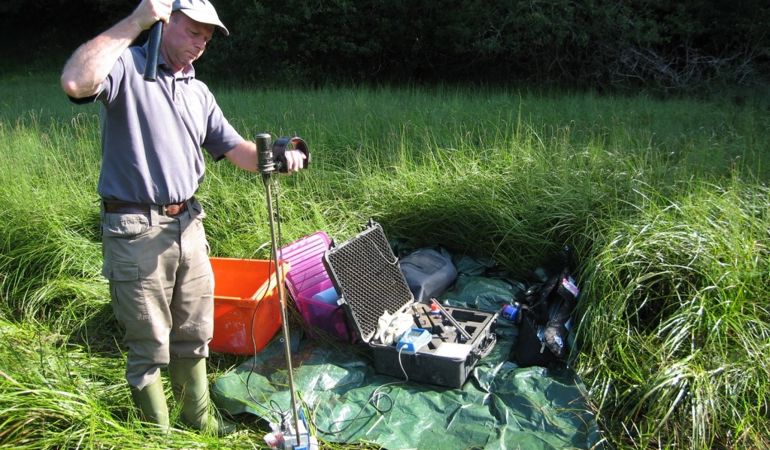 Each month our teams write a blog about the special places they look after. Here, Jamie Bevan, our Senior Reserve Manager in South Wales, helps us escape the hustle and bustle with a virtual walk through Carmel National Nature Reserve (NNR).
Located near Carmel village in south Carmarthenshire, Carmel NNR boasts one of the best examples of ash woodland in Wales and some intriguing limestone geology.
I have a real affection for this site having surveyed, monitored and managed its special features going back nearly 30 years.
The woods are dominated by a canopy of ash, over an understorey of hazel, hawthorn, holly and spindle. While the lime-rich ground produces stunning wild flower displays each spring.
Carpets of bluebells, wood anemone, wild garlic, dog's mercury, primrose and violets clothe the woodland floor. Rarities like lily-of-the-valley adorn the craggy slopes; while the strangely named herb-paris (no French connection!) hides in shady hollows.
The limestone bedrock here has been quarried and utilised going back centuries. The woods include many old lime kilns and spoil heaps, dating back to the 1600s or earlier. Nature has quietly recolonised these relics, although plenty is still visible with a keen eye.
Much more obvious is the large, industrial-scale Glangwenlais Quarry. Operational until the mid-1900s, this disused quarry now forms the centrepiece of Carmel NNR. A circular waymarked route leads visitors around the nature reserve – taking about an hour – and offering breath-taking views from the top of the quarry on a clear day.
No such views today, though. The main reason for my current visit is to check all the footpaths for fallen or unsafe trees and branches following the weekend's high winds.
It's late January – and with chilly rain now turning to snow, I'm keen to get a move on. Nevertheless, I'm still noticing tell-tale signs that spring is not too far around the corner.
Many hazel shrubs are now decorated with catkins. The fresh leaves of lords-and-ladies and dog's mercury are starting to show, with the first bluebell, celandine and primrose shoots also emerging.
I'm slightly surprised to hear the hoot of a tawny owl in broad daylight – although this is not as rare as people may think. On a brighter day I would expect to see great tits, blue tits and nuthatches busy establishing their territories for the nesting season ahead, and very vocal in the process. The drumming of great spotted woodpeckers would also echo through the woodland.
Aside from the limestone woodland, Carmel's most distinguished feature is Pant-y-llyn turlough, or seasonal lake.
'Lake of the hollow' in Welsh, Pant-y-llyn, is a curious 'disappearing' lake. With no inlet or outflow streams, it is fed entirely by the limestone groundwater. Hidden below Carmel's surface is an extensive karst system of caves and passages, mostly filled by percolating waters which have slowly dissolved and eroded away at the limestone bedrock.
Much like a bath but without taps, the turlough fills each autumn as the groundwater level rises, reaching a maximum depth of 3 metres. The lake then drains away in summer as the water table drops.
Turloughs are quite a feature of Carboniferous limestone regions in Ireland; however, Pant-y-llyn is still the only known example in mainland Britain.
Towards the end of my visit, I pause for five minutes to view across the turlough – currently full of water. I spot a little grebe on the surface, before it promptly dives to feed. When it resurfaces it lets out a loud trilling call. These birds too are staking their breeding territories. Little grebes are quite early nesters and this one is already developing its smart summer plumage. I have known them raise up to three broods in a year here, depending how the water level fluctuates.
The turlough takes on a quite different complexion as it empties in dry summers – and it's during this dry phase when things get intriguing.
We are recently discovering a hidden and ancient history beneath the lake basin – even older than the druid myths and legends linked with this site.
Working alongside the British Geological Survey and researchers at Swansea University, we have found a surprising depth of sediment beneath the basin floor, going down more than 6 metres. The basal sediments have been dated at over 10,000 years old!
Our (sensitive) coring studies have also revealed distinct layers of peat, silt and clay below the lake bed.
Closer inspection of the sediment cores and plant macrofossil analysis is indicating Pant-y-llyn has not always been a fluctuating turlough: in earlier times it existed as both a permanent lake feature as well as a wetland.
Ongoing studies with research partners will no doubt reveal further insight into this fascinating Welsh turlough and its evolutionary history.
I arrive back at the car park a bit quicker than anticipated – and thankfully before any significant snowfall. On this occasion just some minor branch clearance was needed. I have noted several willows starting to lean on our highway boundary so I will contract a tree surgery firm to deal with this as it will need temporary traffic control.
Even on a cold and wet January day, this reserve still has its charms and interests. I certainly recommend the spring flower displays – although Carmel offers something special for visitors throughout the year.