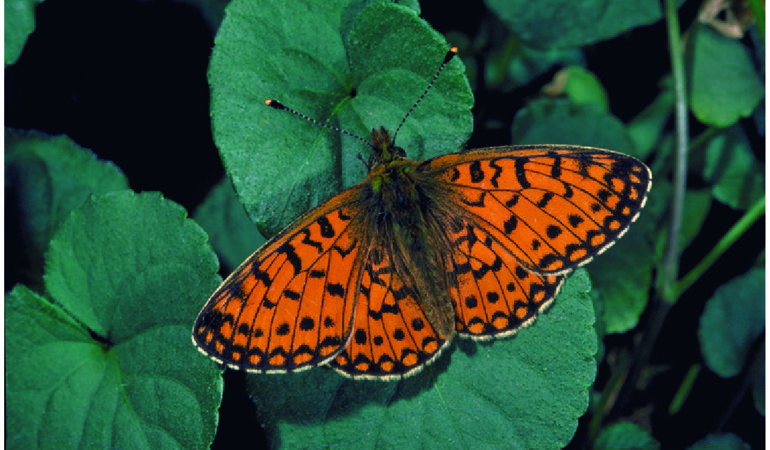 This month's blog is from Graham Williams, Senior Reserves Manager for Newborough...
With over 70 National Nature Reserves in Wales, we are all only a few miles away from a special place to discover nature.
Our colleagues working to look after the National Nature Reserves have got together to write a blog, bringing you the latest news and goings on from a different site each month.
As we feel the warmth of the sun on our backs, wildlife bursts into life.
This transformation of the natural world is one of the highlights of the year, awakening a cacophony of colour, smell and sound.
Among our best loved insects, butterflies are found on a wide range of natural habitats across the country. In common with other pollinating insects, they play a key role in maintaining the semi natural and farmed landscapes of Wales.
Newborough has a wide diversity of butterflies which depend on the open dune grassland and woodland edge habitats.
The orange tip butterfly is one of the first species to emerge in spring. The males and females of this species are very different with the colourful orange tipped males giving the species its name. Females resemble a green veined or small white butterfly with a distinctive black spot on the upper forewing. Females lay a single egg on cuckoo flower, a common plant which grows in the damp dune slacks and woodland glades.
The extensive dune and meadow grasslands on Newborough warren support the greatest diversity of butterflies such as the meadow brown, small copper, common blue and small pearl bordered fritillary. The moth-like dingy skipper, holding on at the coast, can be seen regularly in Newborough as is the grayling butterfly, well camouflaged but conspicuous by its habit of tilting its wings towards the sun to regulate its temperature.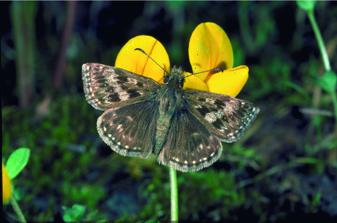 One of the most commonly seen butterflies in the forest is the speckled wood.
Moths and butterflies also provide a crucial glut of caterpillars for the chicks of nesting birds, such as meadow pipits, skylarks, stonechats and blackcaps.
In Newborough, we are working hard to manage habitats for butterflies and other pollinating insects. Extensive grazing on dune habitats maintains a rich sward of diverse caterpillar food plants, tussocky grasses and nectar sources.
Glades and rides are an integral part of any woodland or forest and are the richest habitats in the woodland for insects, wild flowers and ground nesting birds.
Visiting Newborough
Come and visit Newborough National Nature Reserve and Forest has, there are several waymarked walking trails to help visitors explore. All the information you need is on our website.