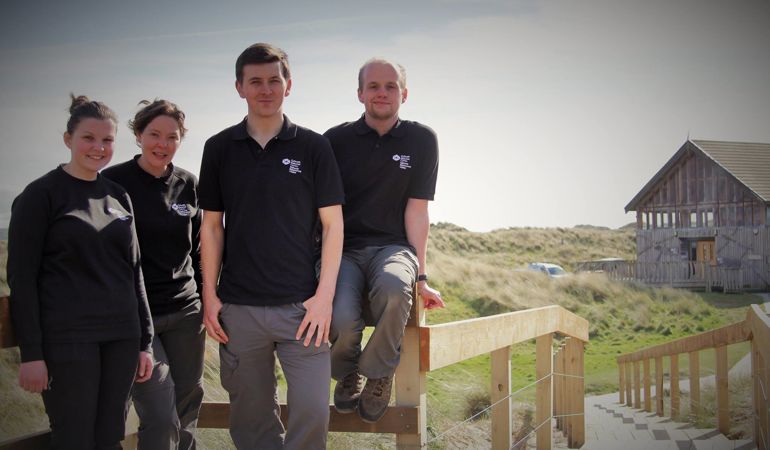 With over 70 National Nature Reserves in Wales, we are all only a few miles away from a special place to discover nature.
Each month our teams write a blog about the special places they look after. Here, our passionate summer staff at Dyfi Ynyslas tell you how they have been looking after the site and helping more people get outside during the school holidays…
Strong tides and unexploded bombs!
By Jack Simpson
The beautiful setting of Ynyslas on the Dyfi National Nature Reserve (NNR) attracts up to 250,000 visitors a year. This includes local people who've come for a day out, people on holiday, plus some educational groups.
We work hard to ensure our visitors enjoy their time here safely, and without damaging this special site which provides a home for some amazing wildlife.
The beach here has a red flag status, which means no swimming due to dangerous strong tidal currents. We work very closely with HM Coastguard and Ceredigion County Council to deliver safety messages on site and on our social media pages.
Some people may not know this, but Ynyslas was an artillery testing site in World War 2.
The strong tides can move the sand and occasionally uncovers unexploded bombs, or ordnance. Last year we had regular visits from the Royal Navy Bomb Disposal, they made 32 items safe with controlled explosions.
Don't let this put you off visiting though. We work closely with the Ministry of Defence, HM Coastguard and Royal Navy to reduce the ordnance on site, and to raise awareness. If people come across an item on the beach that they are concerned about, they should dial 999 and ask for the coastguard.
Getting outside and learning about Dyfi Ynyslas
By Llinos Roberts
We've had another successful season of events this year at Ynyslas. These are usually held every Sunday from April to September and they are a great way to teach people about the sand dunes, the Dyfi estuary and Cors Fochno (Borth Bog).
We've held a wide range of events for all ages, like the seashell identification walk, wildlife photography, sea safety day, the sand castle competition and much more.
You don't have to be an expert to join in the fun either! Most of our walks are guided by our summer wardens, the reserve manager or local experts.
We're really pleased to have a record number of attendance for most of our walks this year, with over 25 people taking part in our annual orchid walk.
As well as our weekly walks, we have also been hosting our popular Nature Nutters events. These weekly activities for children include treasure hunts and arts & crafts, like nature imprints in clay and building bird boxes.
All of the events have been promoted on our social media pages, be sure not to miss out on any future events by following us on Facebook and Twitter.
Bird conservation
By Catherine Blower
The breeding birds we have here are a key conservation feature. We carry out early morning surveys during the breeding season so we can monitor changes and see how they are doing.
In recent years, there has been a change in some of the species that make Ynyslas their home, which could be due to the increase in patches of brambly scrub on site.
For example, there has been an increase in the number of Grasshopper Warblers. This small, dull-looking bird makes the long migration from West Africa to breed here. You can hear these little birds in the evenings from April to July, where their song can be heard for minutes on end.
Skylark, Meadow Pipit, Whitethroat and Stonechats also had a successful breeding season this year, with lots of juveniles milling about on site.
Another exciting find this year was a pair of breeding Shelduck. These colourful, clever and secretive breeders use old rabbit burrows to nest. They were seen entering a burrow in the dunes early one morning, unfortunately we were unable to confirm whether they raised any young.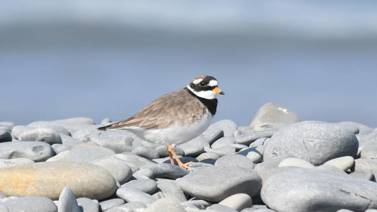 One other bird to mention here has to be the Ringed Plover. This bird, like the Grasshopper Warbler and Skylark, is a red data list species for the UK, meaning they are of the highest conservation priority.
A few pairs successfully bred annually at Ynyslas until 2007, when the area of pebbles and shells developed into a new dune and became unsuitable for this ground nesting bird.
We were therefore very excited to find three Ringed Plover nests with eggs in early July in a new area. The Ringed Plover nest sites are very vulnerable to disturbance, so we made sure our visitors knew which areas to avoid to help give the birds the best chance.
Unfortunately, despite our best efforts to protect these nests, we were unable to defend them from the rising tides and changing nature of the beach. Still, it is encouraging to note their attempt to breed here as it suggests that some areas have become suitable for them to breed again. We hope next year they will have more success.
Fighting dog poo to protect rare plants
By Richard Lewis
The Dyfi Ynyslas NNR has a truly wonderful variety of plant species. The combination of a dynamic sand dune system, alongside an expanding saltmarsh, means that there are a variety of places for different species to grow.
In fact, these extreme habitats are what enables rare species to flourish here!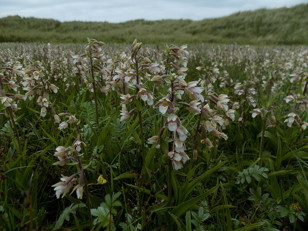 During my time here I have been helping to monitor some of the rare plant species like the pyramid orchid, hound's-tongue and prickly saltwort.
Many of the species I have been surveying are also listed on the Ceredigion Rare Plant Register, and in certain cases the Dyfi Ynyslas NNR is the only site in the county that certain species are found!
While we have had a good year for many of the species, they are at risk from things like scrub encroachment, invasive species and nutrient enrichment from dog poo.
We work hard to deal with the non-native invasive species, like New Zealand flax and hybridised / Spanish bluebells. However, they are more persistent and will take continued effort over the coming years to be completely removed.
Perhaps, and maybe surprisingly, the most difficult threat to deal with is the amount of dog poo left on the site.
The sand dune soil is nutrient poor and any additional nutrients brought into the system from an outside source can alter the soil chemistry.
This might seem trivial, but nutrients from dog poo is more suitable for more common plant species which then outcompete, and then displace, the rarer species which the site is designated for.
We provide dog waste bins on site and encourage dog owners to use these facilities when they visit.
Dyfi Ynyslas is such a great place for people and nature, and we can all enjoy the area and protect it at the same time.