Take a walk on the wild side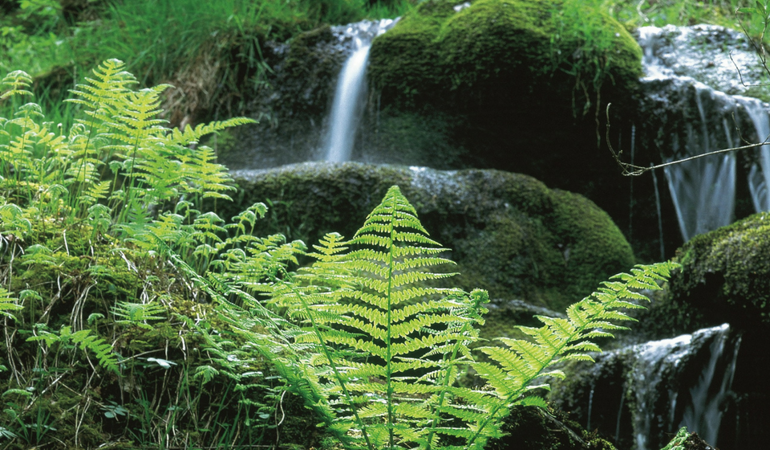 This month's blog is from Jamie Bevan, Senior Reserves Manager for Swansea, Neath Port Talbot and Carmarthenshire...
With over 70 National Nature Reserves in Wales, we are all only a few miles away from a special place to discover nature.
Our colleagues working to look after the National Nature Reserves (NNR) have got together to write a blog, bringing you the latest news and goings on from a different site each month.
This month's blog is from Jamie Bevan, Senior Reserves Manager for Swansea, Neath Port Talbot and Carmarthenshire...
I feel genuinely privileged to be a passing custodian Reserve Manager for Allt Rhyd y Groes, especially as this magnificent site was one of the earliest National Nature Reserves in Wales.
The reserve is a hidden gem tucked away in a remote Mid-Wales valley, located some 5 km north of Rhandirmwyn in the extreme north of Carmarthenshire.
It is a land of high upland moors and steep, craggy and wooded valleys incised by fast rushing streams. A a place for hardy visitors, matched only by the even hardier sheep farmers who carve a livelihood in this rugged landscape.
Less is sometimes best
Unlike some of the other Nature Reserves we have blogged about, this is an oak woodland reserve where the required conservation management is largely 'minimum-intervention'.
We do use light sheep grazing, which helps the overall woodland habitat, special mosses, lichens and woodland birds. But on the whole we allow the woodland to do its own thing and encourage natural dynamic processes. 
My favourite time of year at Allt Rhyd y Groes has to be April
This is when birds like the pied flycatchers and redstarts suddenly return from Africa. Their arrival after the long journey boosts the resident populations of treecreepers, nuthatches and tits. 
Walking through the reserve at this time of year means you can hear cuckoos calling across the valley. You can also see the male wood warbler, resplendent with bright lemon chest and trilling song, flitting through the understorey trying flat out to attract a mate.
Allt Rhyd y Groes was first acquired by the Nature Conservancy in 1959 simply to try to safeguard one of the last refuges of the red kite. 
With kites now thriving and several thousand breeding pairs throughout the UK, it is easy to overlook the huge conservation efforts when the population was down to such a small number of Welsh birds.  Egg collecting was a major threat, even the Gurkhas provided round-the-clock nest protection for the Rhyd y Groes kites – and woe betide any egg collector they got hold of!
The woodland is superb
It's no surprise that we see so many beautiful birds here. They live in a reserve which is one of the best examples of upland oak wood in Wales, with around 60 hectares of outstanding sessile oak woodland.
Many of the trees are hundreds of years old and massive, they are also clothed with mosses and ferns which give away their age.
The high annual rainfall and damp oceanic climate has led to these upland oak woods being dubbed the Welsh temperate rainforest!
Marvellous Meadows
We have two upland hay meadows here, they are too steep for agricultural machinery so we rake them off by hand after cutting in late August. 
Needless to say, they have never been ploughed or dressed with artificial fertilisers and so contain a wealth of old meadow flowers. 
The flower display starts with a haze of bluebells in late May (bluebells flower several weeks later up here than in the lowlands), punctuated with white clumps of wood anemone flowers. 
Shortly after come pink drifts of heath spotted-orchid. In high summer you can expect to see an array of colour from flowers like tormentil, bitter-vetch, betony, great burnet and devil's-bit scabious. 
A particular feature of these Welsh upland meadows is the Nationally Scarce wood bitter-vetch. There can also be dyer's greenweed and greater butterfly-orchid, although I have failed to find these rarities in recent years.
Upland heath country – classic Welsh 'ffridd' habitat
If you follow the 2 km footpath through the reserve to the end of the wood a stile then leads to the open hill beyond. However, beware that there are no maintained paths after this point and it is steep and rough terrain. 
This is upland heath country – classic Welsh 'ffridd' habitat.  Heather and bilberry are joined by a scrubby mix of willow, birch and rowan, providing perching spots for birds like willow warblers, tree pipits and whinchats. 
Reduced grazing in this area has allowed for sprawling mats of stag's-horn clubmoss amongst the heathland vegetation. 
Ravens and peregrines soar overhead to complete the upland scene.  If you are lucky you may spot a ring ouzel (which is similar to a blackbird but with a white crescent on its chest) amongst the loose stone, or 'scree slopes'. Although the national decline of this species is mirrored here.
Visiting Allt Rhyd y Groes
Allt Rhyd y Groes is certainly a breath-taking reserve befitting of its National Nature Reserve status: once visited, never forgotten.
Visitors are welcome, just follow the minor road from Llandovery northwards to Rhandirmwyn and Llyn Brianne reservoir.  About 3 km after Rhandirmwyn, bear left and cross the new bridge over the Afon Tywi by the campsite.  Follow the narrow lane for another 2 km, then park near the Bailey bridge; be sure not to obstruct wide passage of farm or timber vehicles over the bridge. Go through the gate here and walk up the track past Rhyd y Groes cottage before entering the nature reserve.  Footpath routes within the reserve are clearly defined.