A greener future for Ceredigion metal mine
Work by Natural Resources Wales to tackle pollution from an old metal mine in Ceredigion is giving the local environment a new lease of life.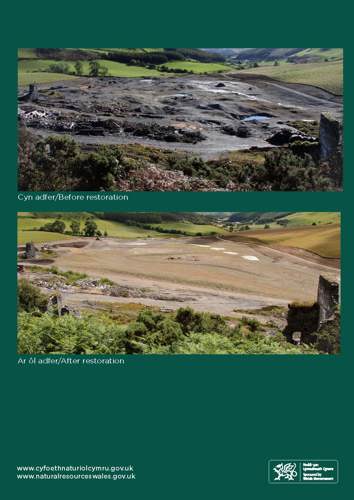 Streams have been divertedaway from the mine, and areas of contaminated waste have been capped with soil and clay. The scheme could prevent up to 15 tonnes of toxic metals from entering streams and polluting the River Ystwyth each year. The work was completed in June 2015 and NRW will continue to monitor the water quality and ecology in these streams to see how well it has worked.
And it's not just water quality and river life that will benefit. The landscape at Frongoch is already turning greener, improving habitats for rare mosses and lichens, and making it a better place for wildlife, the local community and visitors to the area.
Natural Resources Wales is holding an Open Day on Friday 2 October 2015, inviting everyone with an interest to come and see the transformation for themselves.
Paul Edwards, Project Manager said: "Our work at Frongoch is reversing more than 100 years of contamination stretching back to the 1800s, when Frongoch Mine was one of the most productive lead and zinc mines in Wales, employing hundreds of people from as far afield as Italy.
"There are around 1,300 old metal mines in Wales. They are an important part of our heritage, but abandoned mines have left a distinct mark on our environment and have caused pollution to more than 100km of rivers and streams. They need to be cleaned up to revitalise today's environment for wildlife and people.
"The benefits we've seen so far at Frongoch are extremely encouraging. We are eager to continue with the work, and share our experiences with other countries."
Sustainability was at the heart of this project. The soil to cap the mine waste came from within five miles of Frongoch and the work was done by a contractor from mid Wales, who employed members of the local community.
The Frongoch project, at a cost of £1.15 million, was part funded by the European Regional Development Fund through the Welsh Government, and was carried out with technical support from the Coal Authority. Dyfed Archaeological Trust provided advice to ensure that the extensive archaeological remains were conserved during the work, to preserve its heritage value for future generations.
The Open Day will take place at Ysbyty Ystwyth and Pont-rhyd-y-groes Village Hall, Ceredigion on Friday 2 October 2015, 12.00 noon till 6pm. Guided field trips to Frongoch Mine will be available during the day, departing from the village hall.