A hat-trick for ospreys in Hafren forest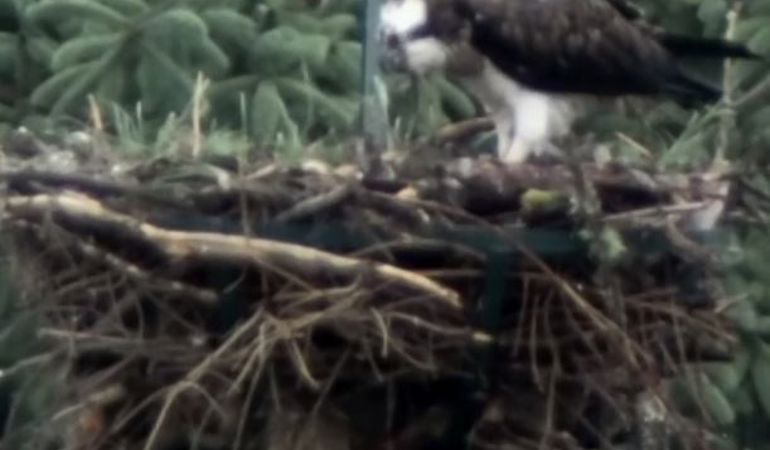 Osprey chicks have hatched for the third year in a row at their nest in Hafren forest near Llanidloes, Powys.
The progress of the three chicks is being closely monitored by Natural Resources Wales (NRW) who manage the site.
Five chicks have been successfully reared in the nest over the last two years, and staff will continue to record the birds' breeding behaviours, and track how things develop.
Steve Cresswell Operational Resource Manager, Natural Resources Wales, said:
"Wildlife is an important part our environment, heritage and our culture in Wales.
"Hafren forest provides a home to diverse and valuable wildlife and we work hard to make sure that the habitats are looked after.
"We are pleased that the ospreys have returned again this year, it shows that our fantastic natural environment can support iconic species like the osprey."
This year the breeding hasn't all been straightforward.
The female abandoned her first set of eggs when an intruding male appeared and ousted the male which has been breeding in Hafren for the last two years.
However, the new male bred with the female and she was soon back on eggs.
Visitors are welcome to the site, however there are limited parking and facilities in the area.
There is a small viewing hide on site but visitors cannot go within 400 metres of the nest to ensure the birds are not disturbed.
Meanwhile, the Dyfi Osprey Centre, near Machynlleth has also seen the return of their ospreys this year which have also produced two chicks.
This site, managed by the Montgomeryshire Wildlife Trust, has live webcams and volunteers on site to tell people more about these rare birds of prey that visit every year.