A new Osprey chick joins the family in Wales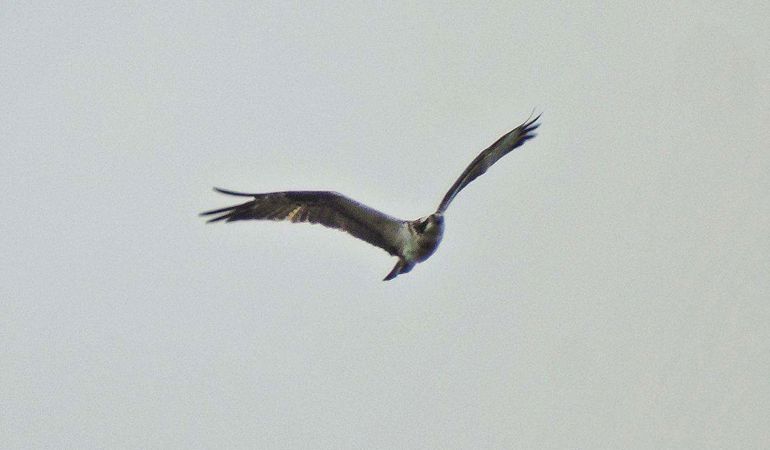 Ospreys nesting in a Natural Resources Wales (NRW) forest have successfully bred for the fourth year in a row.
The birds of prey made the epic journey from Africa to their nest in Hafren forest in April this year.
Since then, one chick has been seen in the nest and its progress is being closely monitored by NRW staff who are recording the birds' behaviours and tracking how things develop.
Steve Cresswell, Mid Wales Operations Manager for Natural Resources Wales said:
"We manage sites like Hafren forest very carefully so it can support wildlife, people and the economy for the future.
"We've worked really hard to make sure the habitats here are looked after and suitable for all species.
"Seeing the Ospreys return for the fourth year has been very rewarding and shows that our work is paying off."
Eight chicks have been successfully reared in the nest over the last three years.
The female has been coming to breed at this site for three years, while the male arrived at the site for the first time last year and ousted the original male.
Steve continued:
"This year we are being extra vigilant as there is a chance that young from previous years could make their first return migration from Africa.
"It would be fantastic to see one of the Hafren-born ospreys return and breed in Wales."
Visitors are welcome to the site, however there are limited parking and facilities in the area.
There is a small viewing hide on site but visitors cannot go within 400 metres of the nest to ensure the birds are not disturbed.
Meanwhile, the Dyfi Osprey Centre, near Machynlleth has also seen the return of their ospreys this year which have also produced three chicks.
This site, managed by the Montgomeryshire Wildlife Trust, has live webcams and volunteers on site to tell people more about these rare birds of prey that visit every year.