Boost for Tawe fish population as fish pass opens up new spawning grounds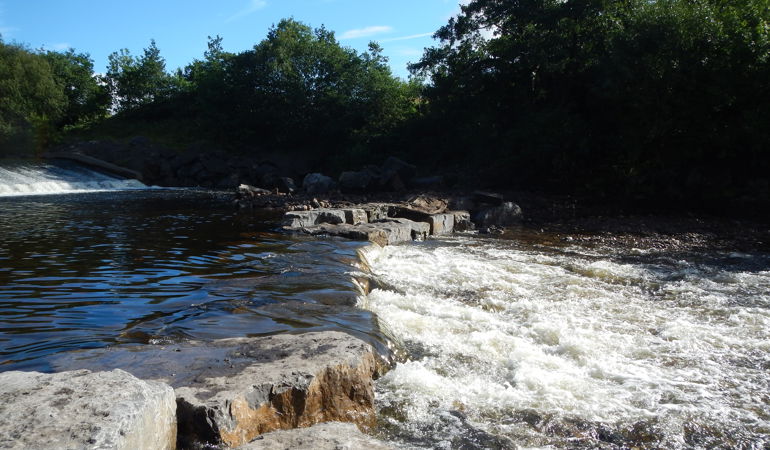 Iconic fish like salmon and sewin (sea trout) have been given a boost as they can now access prime spawning grounds after a fish pass was given an overhaul.
The £58,000 update to the fish pass on the River Tawe in Panteg was carried out by Natural Resources Wales (NRW) with help from The Canal and Rivers Trust.
The weir, which is owned by the Trust, is a historic structure that feeds water into the upper reaches of the Swansea Canal.  The weir has an existing fish pass that had become virtually unusable due to erosion of the river bed downstream.
During the project 380 tonnes of block stone was transported down to the river, going over an 8m high river bank, a Welsh Water/Dwr Cymru sewer main and a water supply culvert.
This is the second time improvements have been made to the weir since its construction in the 1800's.The first improvement used concrete and steel to modernise the weir and to install the first fish pass in the 1980's.
Dave Charlesworth, Sustainable Fisheries Project Manager said:
"Salmon and sewin are iconic species in Wales and are an important part of the health of our rivers and worth millions to Welsh economy. 
"Our focus is to make sure that our rivers are in the best possible condition so they can support healthy fish populations.  
"The structure at Panteg has been a restriction to migrating fish on the Tawe for many years and the fish now have better access to a huge area of spawning habitat".
Funding for the project was part funded by the European funded "Salmon for Tomorrow" programme and the Welsh Government.