Brechfa wind energy scheme gets underway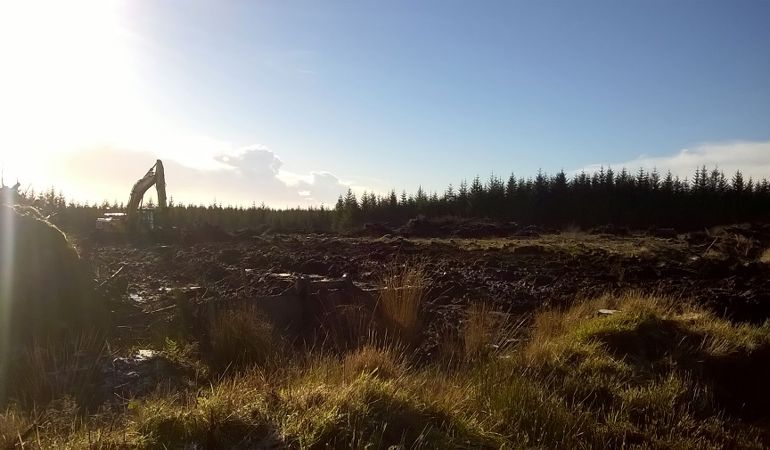 Construction of a wind energy scheme in Carmarthenshire, which will provide power to almost 39,000 households*, is now underway.
The Brechfa Forest West Wind Farm will be built and operated by Innogy Renewables UK Ltd, on a 140 hectare site managed by Natural Resources Wales (NRW) on behalf of Welsh Government (WG).
Gordon Baird, NRW's Energy Delivery Programme project manager, said:
"The Welsh environment is our most valuable natural asset and makes a major contribution to the economy.
 "We believe that by supporting sustainable initiatives like Brechfa, which have a low impact on the surroundings, it has the potential to generate even more for the economy."
In March 2013, the Secretary of State for Energy and Climate Change granted development consent for Brechfa to Innogy Renewables UK under its previous name of RWE Innogy UK Ltd.
The project consists of 28 wind turbines, each of 2.05 MW capacity, the upgrade of existing forest roads and the construction of new roads, onsite cabling and other necessary infrastructure.
Construction is expected to take 20 months and the forest will remain open while work to erect the turbines takes place. Access will be restricted within the construction area to protect the health and safety of forest users.
Gordon added:
"This is a real success story representing NRW cross departmental working to facilitate this development on NRW land.
"Not only will Brechfa Forest West generate enough clean energy to meet the approximate needs of around 38,800 average UK households,
"It will also have additional benefits such as creating jobs, utilising a green energy source and providing NRW and Welsh Government with a commercial income."
Bethan Edwards, Innogy's senior renewables developer for Brechfa Forest West Wind Farm said,
"This is an exciting time. Construction of Brechfa Forest West Wind Farm could support a significant investment and unlock community investments for the local area."
Brechfa is the latest renewable energy scheme on NRW managed land and follows Pen y Cymoedd, a 76 turbine development being built by Vattenfall across Rhondda Cynon Taff and Neath Port Talbot, which is the biggest wind farm in England and Wales.