Carving out a career in forestry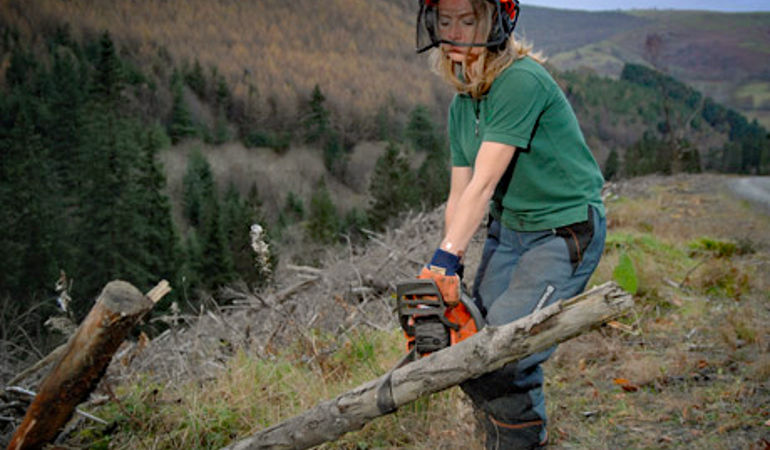 A female forester from Wales, who began as an apprentice, has been nominated for election to the National Council of the Institute of Chartered Foresters (ICF). 
Caroline Riches, who works as a Forest Planner for Natural Resources Wales (NRW), started her career in forestry as an apprentice, learning practical skills such as operating chainsaws and strimmers, and has worked her way up to forest management. 
Caroline, from Llandovery in west Wales, has now been endorsed by fellow professionals and will stand for election to the ICF National Council later this month. 
Caroline said:
"Standing for election to the ICF National Council is a real honour. 
"We live in challenging times and need to adapt to policy changes, climate change, pests and diseases. 
"I will be a strong voice for Welsh forestry and will be a link with new foresters at grass roots. 
"I am passionate about forestry and find it to be a very welcoming industry.  
"There's an outside perception it's a man's world but I don't see that - when I started the number of women in the industry was picking up and women are now well represented at every level. 
"I was originally working in an office job in financial management but wasn't happy working indoors. I managed to get a forestry apprenticeship and haven't looked back. 
"As a busy mum of two, I have juggled earning and learning with family life for the past ten years. 
"I attained many practical qualifications including chainsaw felling of large and wind-blown trees.  
"I found that my size did not hinder me, as using the right tools and technique meant that I never put myself under strain.
"I've gone on to work in a variety of roles, from working with local communities, to taking care of recreation and on to forest planning. 
"Alongside this I gained a degree in Forestry and took up a developmental role in the local forest planning team, where I contributed towards the planning of tree felling and replanting, alongside management of forest operations. 
"While in this role I worked towards professional membership of the ICF. In 2017, I was given an Award of Excellence for my submission and became a Chartered Forester.  
"I currently work as a Forest Resource Planner, which involves compiling long-term, strategic plans for forest management areas.  
"Woodlands are important in Wales and we need more of them. They provide social economic and environmental benefits. 
"Timber is a sustainable and renewable resource. Trees provide recreational activities that are good for our health and mental well-being, they help reduce the risk of flooding and improve air, water and soil quality and are home to much of our wildlife."