Communities benefit from forest industry co-operation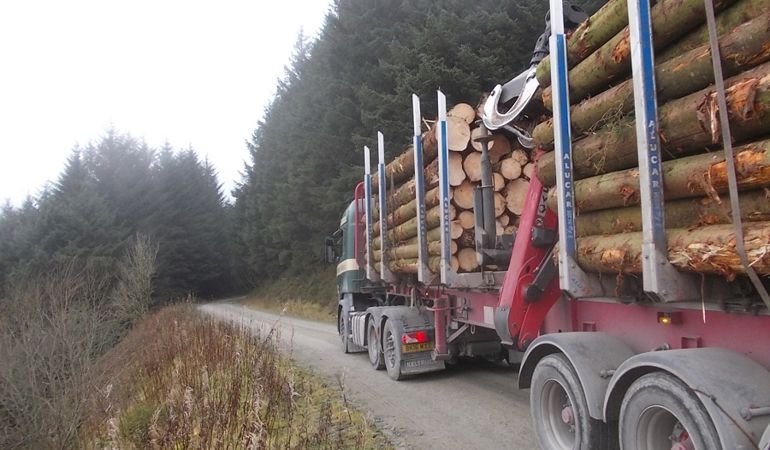 Lorries laden with timber are a familiar, if not always welcome, sight on the roads of Wales.
The effect of timber transport on rural communities has often been a cause for concern but a partnership between Natural Resources Wales, private forest sectors and the local authorities of Carmarthenshire, Ceredigion and Powys is addressing the problem through the Tywi Timber Transport Forum.
The forum was established in 2012 by NRW's predecessor Forestry Commission Wales with the aim of taking as much timber traffic as possible off the unclassified road network by using in-forest haulage roads.
NRW's Local Area Manager Brian Hanwell said:
"Opening forest roads to timber traffic has benefitted small rural communities."For example, 7,000 vehicles which would have potentially driven through the village of Rhandirmwyn, in the north east of Carmarthenshire, over the last five years have instead used the eight mile long Esgair Dafydd to Cwm Henog forest road."
The route is now the busiest forest road in Wales, taking traffic from the A483 trunk road into the 10,000 hectare upper Tywi forest holdings with the number of vehicles doubling since 2013.
The cost of maintaining shared haulage routes deliver benefits to communities, support rural industry, and reduce wear and tear on the public highway; and as forest gravel roads are cheaper to maintain than tarmac surfaced roads they save public money.
 The forum's investment in improvements and maintenance of the road, originally designed to carry around eight lorries per day, is an excellent example of collaborative working which promotes economic growth while recognising the needs of the local community.
Brian added:
"We encourage all hauliers to register with us to use the Esgair Dafydd to Cwm Henog forest road. Authorisation clarifies insurance requirements, and we make no charge for this.
"In addition, we are able to pass on news regarding road closures to timber hauliers thanks to our close links with the highways authorities. And we also seek to reinforce good practice promoted in the Code of Conduct for Road Haulage of Round Timber."
Recently the forum has expanded its remit far beyond the Upper Tywi valley.  
Significant volumes of timber traffic from the Tilhill Forestry and Scottish Woodlands holdings in the Brecon Beacons were due to travel through the small community of Coelbren in the Swansea Valley.
Before operations began, a consultation was held with local representatives, highway engineers and forestry area managers who drew up a joint Coelbren Timber Traffic Management Plan.
The plan restricted haulage to specific times of day to avoid the school run, and with speed limited to 20mph until traffic reached the A4221 Trunk Road.
Alastair Squire, Senior Forest and Harvesting Manager for Scottish Woodlands, and Iwan Parry, ‎Senior Forest Manager at Tilhill Forestry Limited said:
"We have worked together to lessen the impact of timber traffic to Coelbren's community. Soon all our hauliers were on board and compliant with the plan, and this seemed to address all the issues stemming from local residents."