Crabbing boat hits rocks near Milford Haven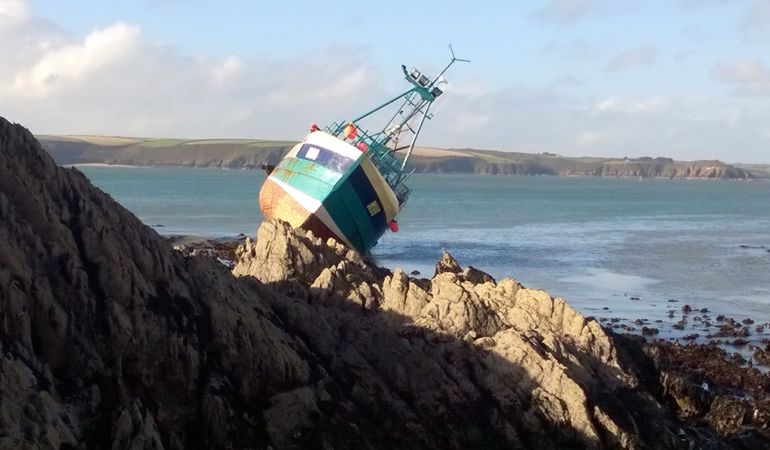 At 3am on the 28th of October we were alerted to an incident involving crabbing vessel "CSK" striking rocks at the mouth of Milford Haven.
The collision caused a 2 to 3 metre gash below the port side of the boat that meant the crew of 5 had to abandon the ship and be taken to shore by Angle Lifeboat.
Over the next few days the owners attempted to salvage the vessel but were unsuccessful. The ship sank off the south point of West Angle beach and was completely submerged at high water.
The vessel posed a big risk to shipping so the insurers and The Port of Milford Haven appointed Braemar Howells, a local specialist company, to salvage the wreckage.
The salvors had a choice between towing the boat to Pembroke Dock or beaching it at West Angle and dismantling it there. Both these options required refloating the vessel.
Because of the deterioration of the ship there was too much risk of losing control in the shipping channel from towing, so the beaching option was chosen.  
Whilst this was the better option for salvaging the vessel it posed serious challenges for NRW because of how close a Special Area of Conservation (SAC) was and the potential impact from pollution to the Asterina phylactica, a tiny cushion starfish.
It took several days for divers to attach straps and floatation bags; the vessel was raised on Friday 6th and towed into West Angle on the high tide.
Robert Phillips, Pembrokeshire Natural Resources Manager, for NRW, said:
"Unfortunately, these kinds of accidents can happen form time to time but it's very important we do what we can to protect the immediate environment when they do.
"This incident was handled very successfully by NRW, we managed to minimise the potential pollution as well as avoid any damage to the SAC.
"The starfish colony is one of two in Wales and one of only 6 in the UK so it's great that our work helped ensure this one was unaffected."
Dismantling began Saturday morning taking the ship apart in sections that were loaded onto tractors and trailers headed for the waste segregation compound set up in the beach car park.
The Larger sections of the ship were dragged above the high tide line so that continuous dismantling wasn't a problem. Thanks to this the vessel was moved from the beach to the compound within 12 hours.