Crackdown on illegal off-roaders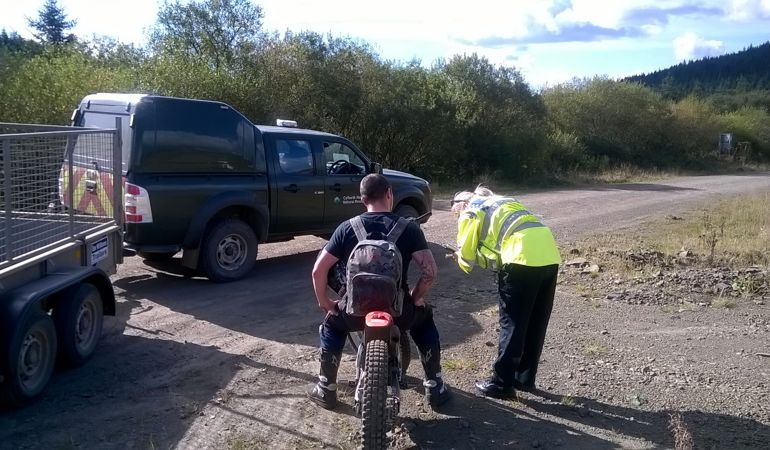 A joint operation between Natural Resources Wales (NRW) and South Wales Police has caught 22 people illegally riding motorbikes in south Wales forests in just one day.
Officers embarked on an operation across the Llanwynno, Pen y Cymoedd and Afan forest areas - known hot spots in Neath Port Talbot and Rhondda Cynon Taff. 
Each of the 22 people caught were served with a formal warning and were advised about the dangers of riding their bikes illegally in the forest. Most were local people, but one group of bikers had travelled from as far as Birmingham. 
If they are caught again within the year and issued with a second warning, they risk having their bikes seized permanently. 
Illegal off-roading is a growing problem in the South Wales Valleys, causing damage to footpaths, bridleways and mountain bike trails, as well as risking the safety of other people in the forest. 
It is an offence to drive motorbikes or quad bikes on land outside of public highways without the owner's permission.  This includes private forests and publicly owned land. 
James Roseblade, local area manager from Natural Resources Wales said: 
"Illegal off-roading poses a serious danger to walkers, horse riders, cyclists and other people who enjoy visiting their local forests. 
"It can also have far reaching consequences for the environment, damaging tree roots and disturbing sensitive habitats for our wildlife. 
"In a time of public sector cuts it is a drain on our funds, often leaving damage to gates, fencing, car parks. Money which could be spent improving sites for local communities. 
"When used responsibly our forests are wonderful places, and we do not want to let the reckless actions of a small number of people spoil them for everyone else and for future generations." 
The one-day operation was a result of 12 month collaboration between NRW, South Wales Police and Rhondda Cynon Taff County Borough Council. 
It was funded through the Proceeds of Crime Act (PoCA) – confiscated money which has been generated through criminal activity. 
Early feedback from our partners working in the forest is promising, with reports of much reduced off-roading in the target areas. 
Other large joint operations are ongoing and smaller local operations are being undertaken across the south Wales valleys regularly.