Flood defences coping with heavy rainfall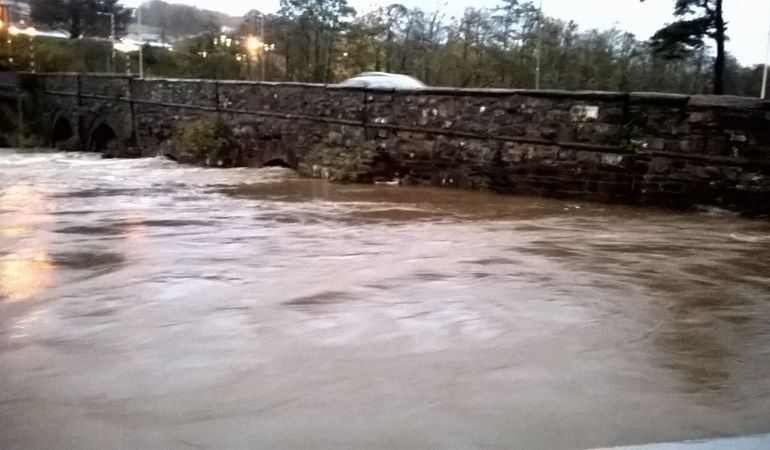 Thousands of homes and businesses have been protected as investment in flood defences shows to be paying off.
Another weekend of heavy rain put Natural Resources Wales (NRW) flood defences to the test, not least in Dolgellau.
There, a recently completed scheme worth £5.6million funded by the Welsh Government, protected up to 300 homes and businesses from flooding for the first time.
Dolgellau has a history of flooding problems, most recently in 2009 where the wall at Bont Fawr was overtopped.
We have built new defences and improved existing ones along the left bank of the river Wnion, from the Enterprise Park to Ysgol y Gader playing fields.
Similar improvements have also been carried on the banks of the Afon Aran and a weir was also removed downstream of Pont yr Aran.
On Saturday (12 December) our staff reported that the Afon Wnion, reached very high levels.
Once the flood warning was issued they closed the new flood gates and installed stop logs. This is all part of the recently completed flood scheme.
Without the scheme flood waters would have been flowing into the town for a number of hours. and many properties in Dolgellau would have flooded.
Jeremy Parr, Head of Flood and Operational Risk Management, said: "Over recent weeks, our staff have been working around the clock, monitoring river conditions and issuing warnings where needed and installing temporary defences in various places.
"Alongside this, we are also working closely with communities to build their resilience and have a plan in place so they know what to do if the worst was to happen."
The scheme in Dolgellau will be officially opened in the New Year by Natural Resources Minister, Carl Sargeant.
To register for our free flood warning service, phone 0300 065 3738.