Dŵr Cymru Welsh Water and Natural Resources Wales nominated for National Innovation award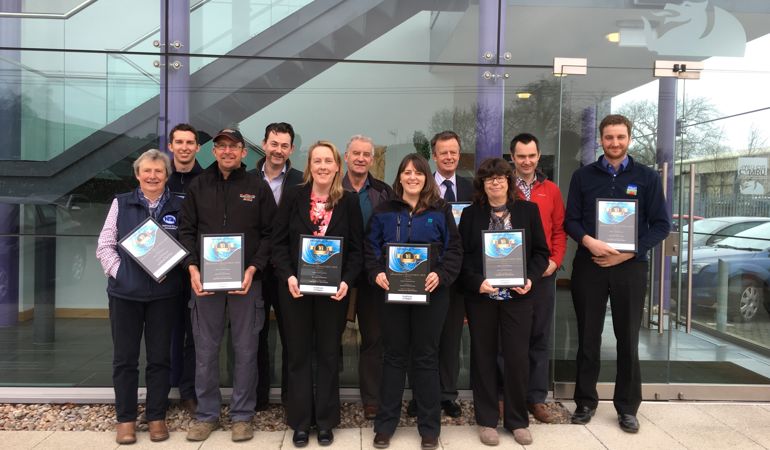 Dŵr Cymru Welsh Water (DCWW) and Natural Resources Wales (NRW) have won the overall award for the Welsh Area Institute of Water Innovation for the Weed Wiper project.
The project has now been nominated for the Institute of Water National Innovation Awards to be held in May 2016.
In the past few years NRW's Laboratory has started using a new sampling technique for detecting herbicides in water called the 'Chemcatcher®'.
This technique was adapted by the laboratory for use with the Weed Wiper project.
The Weed Wiper project was developed with key partners after routine monitoring by Welsh Water showed increased levels of the herbicide MCPA in the river Teifi and river Wye.
The MCPA levels were too low to cause any health or environmental risks but increased levels could lead to Welsh Water needing to install additional expensive treatment processes to remove the herbicide from water.
Welsh Water's investigations in 2013 and 2014 showed that MCPA is widely used for controlling the growth of weeds.
In order to tackle the problem at its source, Welsh Water offered free hire of weed wipers for farmers and land managers in the river Teifi and river Wye catchments.
Weed Wipers has the added benefit of only being licenced for use with glyphosate.
Glyphosate not only kills weeds to the root, but has potentially less impact on water quality as it can break down at around three days compared to MCPA, which breaks down in 15 to 25 days.
A total of 183 farmers registered an interest in this free hire service in 2015.
Over 60 farmers tried out this alternative method between April and October 2015, weed wiping an area roughly the size of 850 rugby pitches.
Welsh Water plans to build on this success by offering free hire of the weed wipers between April and October 2016 in the Teifi and Wye catchments.
The co-operation of farmers and land owners has been excellent and initial feedback on using the weed wiper has been very positive, with farmers saying the machines were easy to use and were as effective as other chemical methods in controlling rush and grassland weeds.
Philip Morgan, senior environmental officer for NRW, said:
"It's important to NRW to not only look after the environment but to help the people of Wales as well.
"This partnership project aims to do both by lessening herbicide levels in rivers and keeping costs down for DCWW customers.
"The response has been fantastic and it's great to see farmers and land owners helping DCWW and NRW.
"Projects like this can help us achieve our goal of protecting our natural resources and ensuring a prosperous Wales."
Sampling by DCWW has seen a reduction in concentration and frequency of detections of MCPA compared to previous years.
Welsh Water's Chief Executive, Chris Jones said:
"We'd like to thank all those who participated in and supported the trial.
"Reducing these levels means we can use fewer chemicals and energy to treat drinking water."