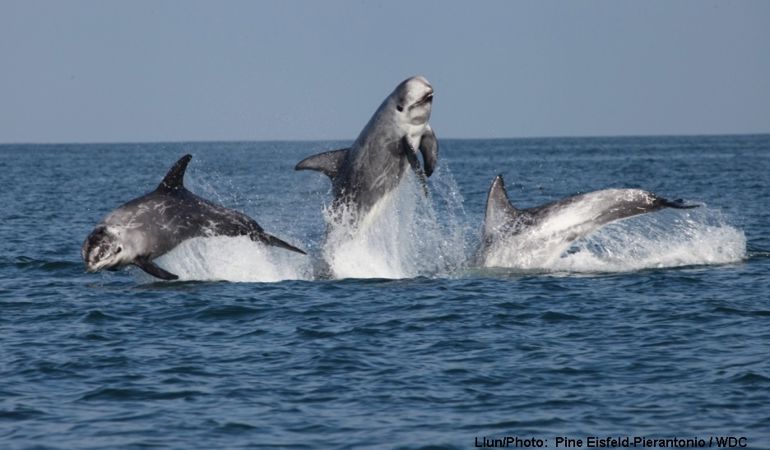 Work has started to monitor a unique species of dolphin off the North Wales coast.
Natural Resources Wales (NRW) is working with the Whale and Dolphin Conservation on a long term study of the Risso's dolphin around Bardsey Island.
This is one of only a few sites around the UK where the dolphins can be seen close to land.
The two week monitoring programme, starting on Saturday 27 August, will provide experts at NRW and other organisations with valuable information about the dolphins' feeding habits and social interaction
Video footage of the dolphins playing can be seen on the NRW's YouTube channel.
Their round heads and white scars tell them apart from bottlenose dolphins, and also helps with the monitoring work.
Ceri Morris, Marine Mammal specialist, Natural Resources Wales said:
"Wildlife is an important part of our environment, our heritage and our culture in Wales and it is important that we monitor species like this to help protect them.
"Risso's dolphins generally prefer deep water where they feed on squid and octopus. So this area around Bardsey where they can be seen close to land is quite rare in the UK.
"They are born grey but, as they get older, their bodies become covered with scratches and scars which we use to identify them.
"We think the scars are caused by their squid prey, and from interacting with other Risso's dolphins.
"Part of our monitoring work will include identifying individuals to see if they are returning to the same area, we can also find out if they've been spotted elsewhere.
"All the information we gather will help us estimate how many Risso's dolphins there are around Bardsey, and understand the importance of this area for breeding and feeding."