Natural Resources Wales warns of further flooding as rain continues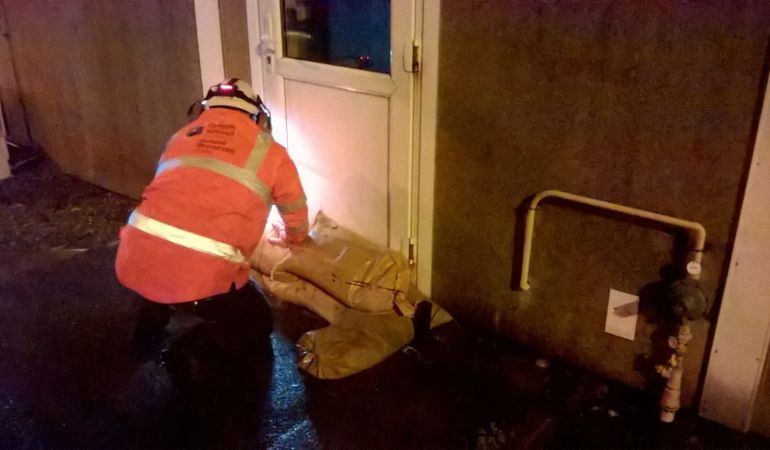 UPDATE: 7.00AM Saturday 13 October
Natural Resources Wales is warning people to be alert for more flooding as the heavy rain from Storm Callum could see rivers continuing to rise during today (Saturday 13 October).
Storm Callum has caused impacts across south and west Wales with strong winds and heavy and persistent rain. Over the last few days, NRW's rain gauges have recorded totals of more than 160mm (5 inches) of rain in the Brecon Beacons.
The rain is forecast to continue and with rivers already high it is possible that south Wales may see further flooding throughout the day.
There are currently 28 Flood Warnings in place across south Wales with a further 39 Flood Alerts and this could rise. Teams are monitoring rivers levels 24 hours a day and using information from the Met Office to forecast flood risk and will issue more Flood Warnings if necessary.
NRW's emergency response teams have been out over the last preparing for the storm checking flood defences are in good working order, clearing gulley's and ditches and installing temporary defences to protect communities as much as possible.
They have also been working through the night to deploy pumps, close flood gates in places like Abergwili and supporting emergency services. They have deployed sandbags in the village of Aberddulais in attempts to divert water and protect homes from flooding.
Sioned Warrell, NRW's Duty Tactical Manager, said:
"We have seen a significant amount of rain over the last 24 hours and this will continue today. We have already seen this impact on the roads and we could see more flooding as the rain flows down from the mountains.
"Making sure you know what the situation is like where you live is really important. You can check our website or call Floodline on 0345 988 1188 for any Flood Warnings that may be in place and keep an eye on weather reports and local news for details of any disruption in your area.
"Our teams are doing all they can to reduce the risk for communities, but if there is flooding we want to make sure people are doing all they can to keep themselves safe."
People are advised to take extra care and allow extra time for their journey as driving conditions may be hazardous. People should also avoid walking or driving through any flood waters as it can be extremely dangerous. People should also avoid fast flowing rivers and streams as they could get swept away and avoid coastal areas.
Flood alerts and flood warnings are updated on the Natural Resources Wales website every 15 minutes and are available to view at www.naturalresources.wales/flooding
Information and updates are also available via Natural Resources Wales's twitter account: @natreswales