Foresters Conference visits Bwlch Nant yr Arian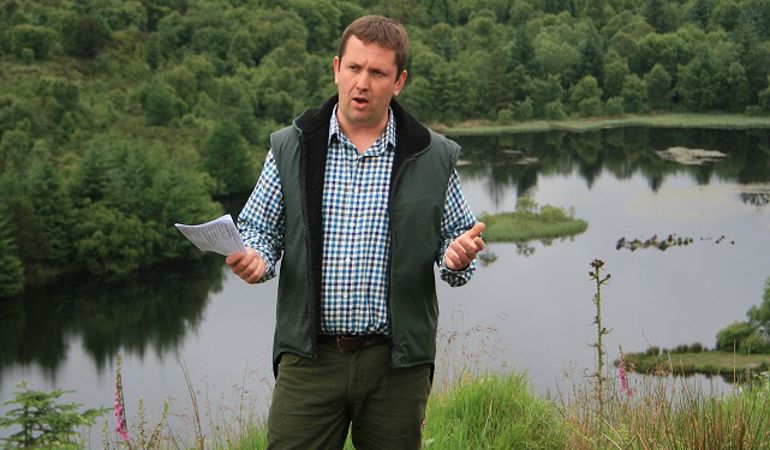 Bwlch Nant Yr Arian Visitor Centre near Aberystwyth, hosted a study tour to boost forestry work throughout Wales.
At the Institute of Chartered Foresters (ICF) conference staff from Natural Resources Wales met with their colleagues from all across Wales and discussed ways of managing forests for the future.
Part of the day was spent looking at where larch trees have been felled at Bwlch Nant yr Arian to stop the spread of the deadly P. Ramorum (Phytophthora Ramorum) a fungus like disease.
 Greg Jones, NRW Forestry Specialist who organised the day, said:
 "The purpose of holding the study tour is to build relationships amongst all those who work with trees and forests in Wales. It is an excellent opportunity for public and private sector foresters to exchange initiatives in sustainable forest management in a challenging environment
"The delegates were shown around Bwlch Nant yr Arian where we took the decision to fell extensive areas of larch trees to help slow the spread of  P.Ramorum after a series of outbreaks of the disease."
Back in December 2015 work took place to remove up to 20,000 trees that had become infected with P. Ramorum.
Since March, NRW is urging visitors to woodlands and nature reserves to 'Keep it Clean', to help tackle the spread of tree pests and diseases.
The campaign asks people to clean their boots and bike tyres to help safeguard Wales' trees.
Lajla Cash, Tree Health Planning Officer, Natural Resources Wales, said:
"I really enjoyed the meeting and discussing different ways of managing forests that we are here to protect.
"We know how devastating these diseases can be – the work being done at Bwlch Nant yr Arian shows that we are tackling this outbreak with an approach to create more resilient forests in future."
Dai Jones, ICF chairman, said:
"We had a very positive turnout, it was nice to see so many members and it's good to hear that opportunities are being taken to create resilient forests in the wake of these diseases.
"Discussion on the day also included the impacts of grey squirrels   to young woodlands with BASC (British Association for Shooting and Conservation), The Vincent Wildlife Trusts Pine Marten Recovery project in the Ystwyth Valley and the launch of The Woodland Trust's ancient woodland indicator species  identification guide during a visit to a nearby privately managed forest."