Funding boost worth £3,000 to improve Halkyn Mountain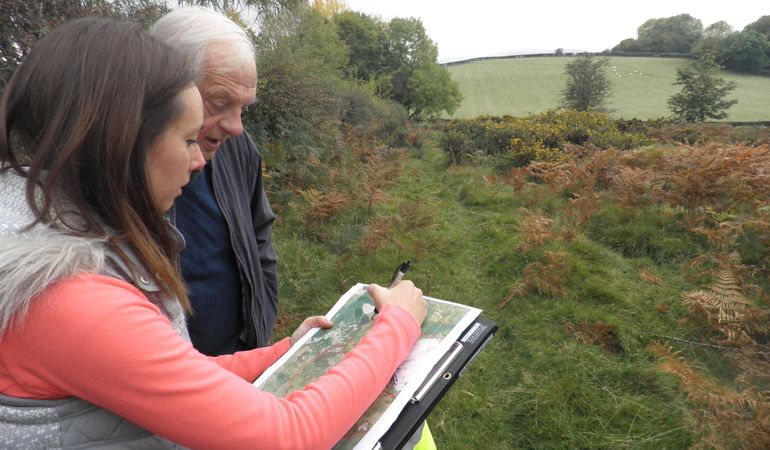 A protected area of rare plants in North East Wales is being given a boost with a programme to rejuvenate the area and improve the habitat.
Overlooking the Dee Estuary, Halkyn Mountain, is an area of common land in Flintshire owned by the Grosvenor Estate.
It is designated as a Special Area of Conservation and is a Site of Special Scientific Interest due to its rare plants and habitats of European importance.
Thanks to funding from Chester Zoo worth £3,000 we have been working with the local Grazing Association to extend the work for another year.
Work is taking place at the moment in the area to create a better habitat by cutting gorse and heather.
Earlier cutting had taken place in February and March to avoid disturbing nesting birds.
Ceirios Davies, NRW's local Conservation Officer, said: "The cutting opens up parts of heath to be grazed by sheep which will aid the management of the habitat in the long-term.
"The Grazing Association put in a very strong application for grant funding as the common is a conservation site of both National and European importance.
"This will also increase access for walkers and break up large stands of heathland that are currently dominated by gorse."
Over the summer parts of the common suffered from fires believed to have been started deliberately.
Anyone starting a fire on a SSSI, without consent, can be fined up to £20,000.
Cutting the gorse safeguards the common from further fire risk and also helps other plant species thrive while repeated burning will only help gorse in the long term.
Ceirios Davies added: "Cutting is easier to control and can also be done on rotation to create stands of varied age in the heathland, providing a wider breadth of habitats for wildlife.
"The Grosvenor Estate has supported this work while NRW has consented the works and mapped the areas being cut as well as putting monitoring in place."
These improvements will help local wildlife, provide a more varied environment for people to enjoy and help the local economy by providing a boost to the graziers.
Sarah Bird, Biodiversity Officer at Chester Zoo, learned about the common from talking to the Graziers.
She added: "It is exciting to help restore Halkyn Common, as it is such an important wildlife site, and a valuable resource for the local farming community too.
"I am looking forward to seeing the impact of the gorse clearance next year, when we hope to see some of the rarer wildflowers and plants returning in areas where the gorse has been cut."
The site is protected for its rare plants and habitats. One of these features is the Calaminarian or metal tolerant grassland of which Halkyn has the largest amount of in North-East Wales.
This habitat is recognisable by the beautiful star-like white flower of spring sandwort, a plant that the miners called leadwort because it grows where the lead lies near to the surface.
Amongst other rare species found on the common is the Great Crested Newt.
European dry heath is also a rare habitat present there, this is a colourful mosaic of dwarf-shrubs including vibrant purple and pink heathers and yellow flowering western gorse.