Golden Acorn awarded to young learners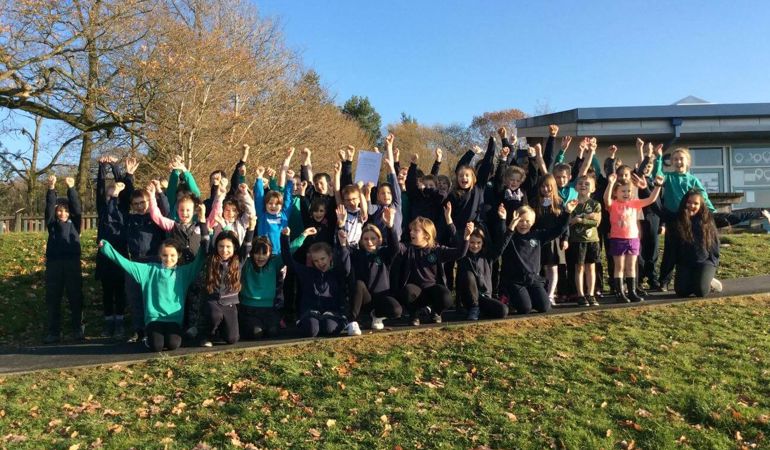 Natural Resources Wales (NRW) has announced the winners of the first ever Golden Acorn Award.
This years' winners, Ysgol Trefonnen in Llandrindod Wells, collected over 250kg of the best quality acorns which will now be used to grow more local Welsh oaks across Wales. 
Eighteen education groups from all over Wales took part in the Acorn Antics campaign which helps NRW plant more trees that have been grown from local seeds.
It also gives young people the opportunity to get outside and learn about the natural environment in Wales.
Ffion Hughes, Education Co-ordinator, Natural Resources Wales said:
"The campaign had a great response again this year with learners of all ages collecting over 500kg of acorns in six weeks - enough to plant 115 football pitches full of oak trees.
"We came up with the Golden Acorn Award to encourage our acorn collectors to spend time learning about different acorns and choosing the best quality for us to grow.
"Ysgol Trefonnen are the worthy winners of the award, having collected 253.3kg of high quality acorns, winning a selection of educational books and raising over £1,000 for the school.
"We want to thank everyone who took part, they are not only helping us grow more Welsh oak trees, but they have spent valuable time learning outdoors.
"And we are now looking forward to planting the oak trees grown from last year's campaign."
Education groups such as Cylch Meithrin, Scouts and primary schools took part with acorns collected from school grounds, parks and farms. Some were even collected from the grounds of Chirk Castle and Llangollen Pavillion.
NRW pay up to £4.40 per kilogram, depending on the quality of the acorns, before sending them to the Forestry Commission tree nursery in Cheshire where they will be grown into saplings.
Replanting local seeds helps reduce the risk of spreading pests and diseases which can devastate forests.
Oak trees help provide a home for wildlife and help reduce the effects of climate change by absorbing carbon dioxide from the atmosphere.
They can also help reduce flood risk and help create great places for people to relax and enjoy the outdoors.