Huge trees to be removed from steep bank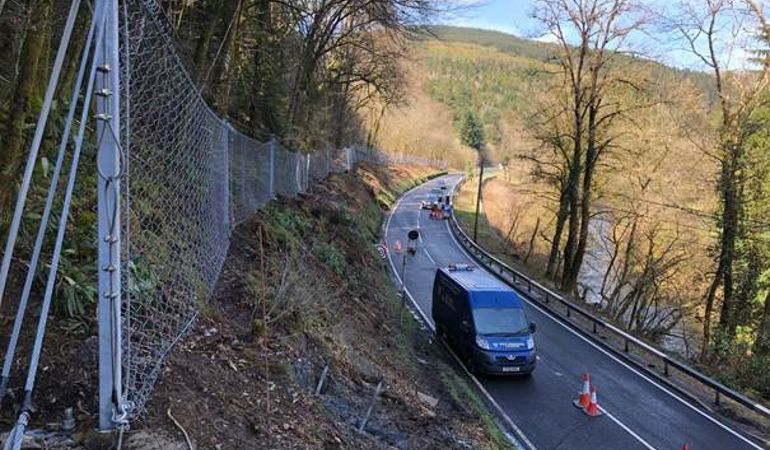 The next phase of Natural Resources Wales (NRW) £3 million project to remove unstable trees above a busy trunk road in mid-Wales will get under way next week.
The Bont Evans Tree Works and Stabilisation project, or BETWS, was set up by NRW to protect people by removing huge trees growing on a steep bank above the A487, north of Machynlleth.
Removing the trees from the steepest part of the bank is a high risk to people and cars below.
Many of the trees are over 43m tall and weigh over 12 tonnes.
As a result, traffic needs to be stopped in both directions for up to ten minutes every time a tree is removed.
Jared Gethin, BETWS Project Manager for Natural Resources Wales, said:
"These trees are becoming increasingly unstable because of their size and age, and the risk that they could fall onto the road and cause an accident is growing.
"But this is not a simple project because the trees are large, on a very steep bank, and directly above a busy main road.
"This means we have no choice but to stop traffic in both directions while we safely cut each tree and then remove it from the bank."
Arrangements are in place to ensure emergency vehicles can pass through the lights with no delay.
NRW's contractor, Dawnus, has been working at the site since last autumn when they began preparations.
This included installing a 900-metre-long catch fence along the bottom of the bank to stop stones and debris falling on the road while the felling takes place.
NRW and Dawnus have met with people from the local community in the lead-up to the felling and are working to reduce the impact as much as possible.
Jared continued,
"This is a major project, and we expect it to take around 9 months to remove the trees from the steepest sections of the bank.
"However, we can only do this one-tree-at-a-time so it's important to emphasise that the duration of the work is uncertain depending on how it progresses.
"We are sorry for the travel disruption and will do our best to reduce the impact on people, but our priority is to keep everyone safe.
"We are also committed to reducing the impact of our work on wildlife. We've started this by clearing some trees and vegetation over the winter, and we will be carrying out regular surveys as felling progresses."
Dawnus will not work on the steep bank on weekends or public holidays to reduce disruption.
A diversion will also be in place along the A470 through Mallwyd for drivers who wish to avoid the disruption all together.
The trees are part of the Tan y Coed woodland managed by NRW, and are mostly Douglas Fir, Western Hemlock and Sitka Spruce.
Once the work has been completed, NRW plans to replant some smaller native broadleaf species to reduce the risk of the same problem in the future.
The felled timber will be sold to merchants where it will be used to supply the construction, agricultural and woodfuel industries.
This will produce around £500,000 worth of timber which can be reinvested into the Welsh Government's Woodland Estate.
The Bryn Llwyd running trail and a nearby public footpath have been closed for safety reasons.
However, Tan-y-Coed car park and other walking and running trails are open for people to enjoy.
People can find information about the project at NaturalResources.Wales/BETWS, or get in touch with NRW at betws@cyfoethnaturiolcymru.gov.uk.