Ladies mountain biking weekend success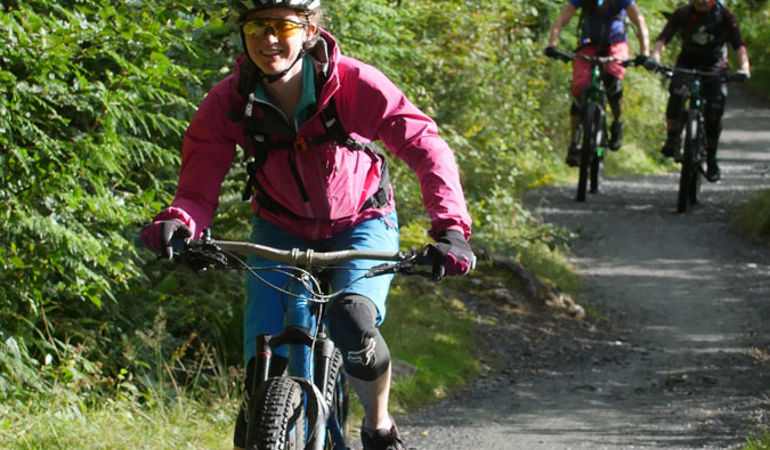 Natural Resources Wales (NRW) joined forces with our partners to host a mountain biking weekend dedicated to women.
The action-packed 'Temtiwr' event, designed to encourage more women to take up mountain biking, was held in North Wales at Coed y Brenin Forest Park.
It offered 60 women the opportunity to improve their mountain biking skills, learn about bike maintenance and socialise with other riders. 
Grace Sanderson, Visitor Centre Assistant and Assistant Mountain Bike Ranger, Natural Resources Wales said:
"Coed y Brenin is one of the most beautiful places in Wales and we are proud to provide so many exciting trails for everyone to enjoy.
"Organising an event like this will hopefully encourage more women to get active and give mountain biking a go.
"We've had very positive feedback and we hope this will grow and become an annual event."
The weekend's activities included mountain bike skills coaching, workshops, guided rides, yoga, and a film showing.
Tracey Moseley, former Downhill and Gravity Enduro Champion, also came along to speak to the women about her passion for mountain biking and host a question and answer session.
She said:
"I always love returning to Coed y Brenin as it has such history for me, and somewhere I have enjoyed returning to year after year to ride with friends and compete at events.
"Being involved in encouraging more women to get out on their bikes and inspire them to ride more and challenge themselves is something I always love to be part of."
There are several purpose-built mountain bike trails at Coed y Brenin ranging from forest road trails for novices to "black" grade trails for expert riders.
The visitor centre also boasts a mountain biking skills area, training zone, and the Beics Brenin bike shop which offers bike hire and coaching.
The event was organised by NRW and partners Beics Brenin, Welsh Cycling, Dyfi Events and Infinite Exposures.
Toby Bragg from Beics Brenin and Dyfi Events commented:
"We designed this event to provide guidance and encouragement for women preparing to enter their first mountain biking endurance event, such as the Trek Coed y Brenin Enduro, on 1 October 2017.
"The event was a great opportunity for women to participate in skills development sessions, try sections of the event route and to talk tactics, preparation and equipment with coaches."
Coed y Brenin hosts several mountain bike events each year which give people the opportunity to get active and enjoy the outdoors.
Events range from bike races, challenges, classes and guided rides.
Gaynor Davis, Women and Girls Development Officer for Welsh Cycling commented:
"We aimed to hold an event which appealed to women of all ability levels and gave riders a chance to connect with others, share their experiences and gain new skills and knowledge from the experts we had on hand.
"We began collaborating with Beics Brenin and Natural Resources Wales last year when we successfully launched the first Women's Mountain Biking Breeze hub at Coed y Brenin.
"We now hold regular guided 'Breeze' mountain bike rides for women."
People can keep up to date with the latest news and events at Coed y Brenin by following the Facebook page or looking at the NRW website at naturalresources.wales/CoedyBrenin.