Latest phase of tree harvesting completed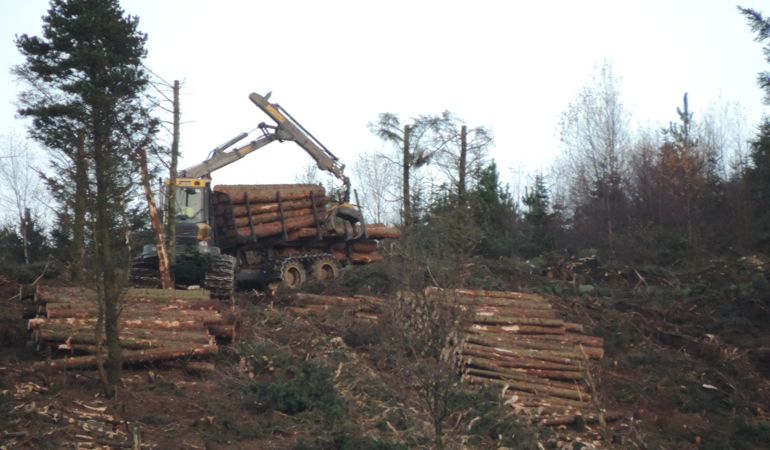 The latest phase of tree harvesting in a forest plantation in Snowdonia has been completed by Natural Resources Wales (NRW).
The area felled, which borders Coedydd Aber National Nature Reserve near Abergwyngregyn, will be restored to native broadleaf woodland to benefit wildlife and everyone's enjoyment of this special landscape.
Timber processors Kronospan, with their contractors MG Harvesting, felled around 6,000 tonnes of trees over the last six months, bring the total of trees harvested from this area to 10,000 tonnes over recent years.
Kronospan use the timber as raw material for the various wood based products manufactured at their site in Chirk.
NRW is grateful to the local community of Abergwyngregyn for their cooperation during the work.  
Nearly 13,000 native broadleaf trees have been planted in areas already clear felled. The most recent area of clear fell will be planted with native broadleaf trees next winter.
Huw Green, NRW Senior Reserves Manager for Coedydd Aber said: "Protecting wildlife is fundamental to our aims as an organisation.
"As harvesting operations continue over the coming years, we are planning to extend the broadleaf woodland by a square kilometre. As the area borders with the ancient woodland of Coedydd Aber National Nature Reserve this will give a real boost to biodiversity and improve the landscape."
Harvesting this plantation is challenging due to the steep slopes at the site.
A harvesting technique, relatively new to Britain, was trialled for this harvesting. A mobile winch system, which connects to the harvester and forwarder, allowed the machine to navigate steep terrain, making it easier to remove the timber. This process causes less erosion damage than the more widely used sky line technique and will be used again for the next phase of felling scheduled for September 2017.