Learning and Rafting at Tryweryn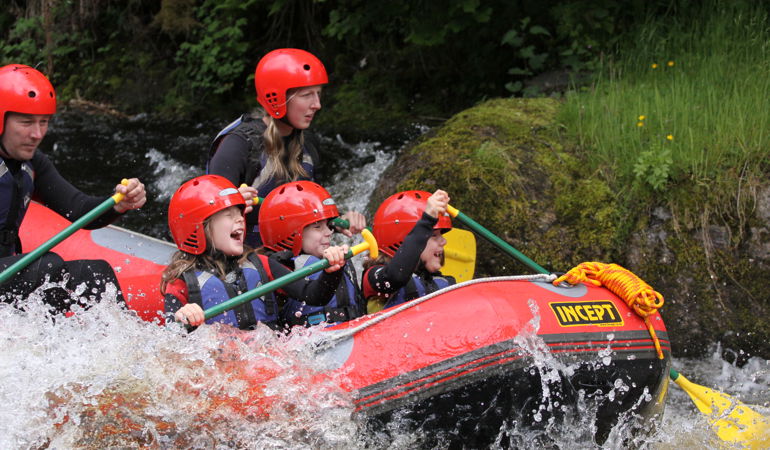 Local school children will tackle the river Tryweryn's rapids in white water rafts later this week.
But the exhilarating ride will have a serious purpose as they learn about the river's wildlife and how it is regulated to supply water and reduce flood risk in the area.
The rafting is part of the Schools Festival, hosted by Natural Resources Wales and Canoe Wales at the Canolfan Tryweryn National White Water Centre near Bala. 
The 60 children will also tour the dam site, upstream of the Centre, to see how water is regulated to supply water to communities downstream and reduce flood risk.
They will also learn about water safety and explore the Tryweryn and Dee rivers' outstanding value as a habitat for salmon, otters and birds including dipper.
David Thorpe, Biodiversity Specialist for Natural Resources Wales said:
"Rivers and lakes play a vital part of our everyday lives.
"This event is an opportunity for children to explore the environment on their doorstep, and learn about the way we manage our rivers to benefit wildlife, supply water, reduce flood risk and be a fantastic resource for recreation."    
The Schools Festival takes place on 9 and 10 July, for children from the seven Gwynedd, Denbighshire and Conwy primary schools which cover the Upper Dee catchment.
Duncan Eades from the National White Water Centre added:
"Activities at the National White Water centre contribute to the North Wales' adventure tourism industry, a key part of the area's economy, while paddle sport is a popular activity that can form part of a healthy lifestyle.  It's great to give the children an insight to all this at a young age."
For more information about white water rafting at the National White Water Centre visit www.ukrafting.co.uk.