Major tree felling operation in Gwynedd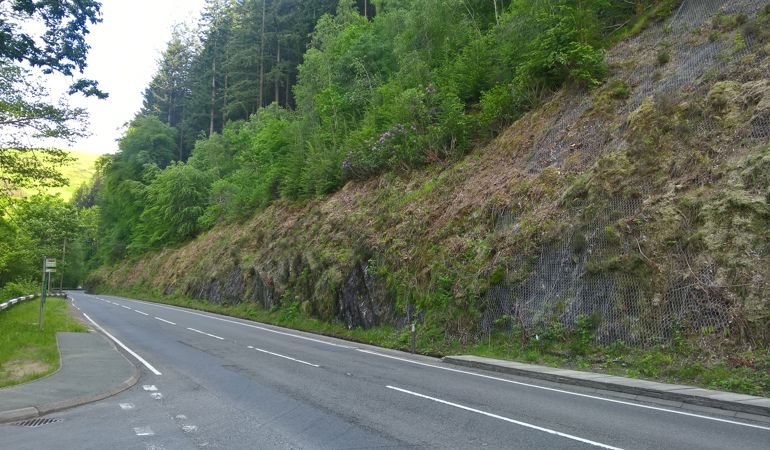 Natural Resources Wales (NRW) has announced plans for a £3m project to harvest unstable trees growing above a section of the trunk road between Machynlleth and Dolgellau.
The Bont Evans Tree Works and Stabilisation project, or BETWS, has been set up by NRW to protect people by removing the trees and stabilising the steep bank.
The work on a hillside above the A487 near Ceinws, is due to start in the autumn and will take around 18 months to complete.
It has to be done because the trees have become unstable and would be dangerous to people and traffic if they fell during a storm.
Steve Cresswell, Operational Resources Manager for Natural Resources Wales, said:
"Some of these trees were planted before the Second World War and they have become unstable because of their age, height, weight and steepness of the bank.
"The risk that they could fall onto the road is increasing each year, and this could lead to unplanned road closures, or potentially a major accident."
The work will remove approximately 22 hectares of trees, which is roughly the size of 30 football pitches.
Safely removing the larger trees, which weigh up to 12 tonnes, above the main road is complex. It is likely to take around 18 months to complete and will cause some traffic disruption.
Steve Cresswell continued:
"Unfortunately we will need to use traffic lights while we remove the trees above the road, and some of the trails in Tan y Coed woodland will also be closed or diverted.
"We are committed to working with people and businesses in the area to reduce the impact of our work wherever possible but our priority is to keep everyone safe.
"We are also committed to reducing the impact of our work on wildlife. We've started this already by clearing some trees and vegetation over the winter, and we will promote the best working practices through the whole project."
NRW plans to stop work and remove the traffic lights during school holidays to reduce the amount of disruption on the road and to the community.
The trees are part of the Tan y Coed woodland managed by NRW, and they are mostly Douglas Fir, Western Hemlock and Sitka Spruce.
Once the work has been completed NRW plans to replant most of the area with native broadleaf woodland, and manage the site to prevent the same problem in the future.
People are invited to a drop in session on 23 May from 14.00-20.00 at Y Plas, Machynlleth. There will also be a second session on 24 May from 15.00-19.00 in Pantperthog Village Hall.
These drop in sessions will be a chance to learn more about the BETWS project and discuss the plans in more detail.
People can also read more about the project on the NRW website, or get in touch with the project directly via betws@cyfoethnaturiolcymru.gov.uk.