More than 4,000 extra homes to receive NRW's free flood warning service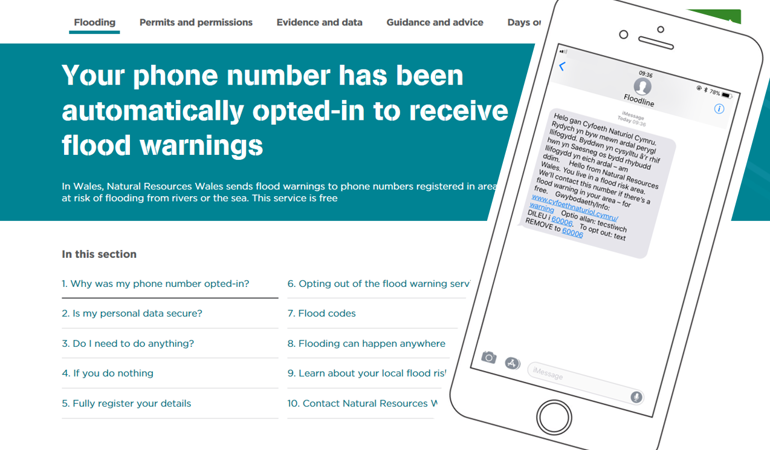 More than 4000 households will sleep a little easier this Christmas after Natural Resources Wales extended its free flood warnings service.
Earlier this month 15,600 customers on the O2 mobile network received a bilingual text message informing them that they have been added to the flood warning system.
The message included a link to a page on the NRW website which will provide them with the Floodline number should they want to fully register to the service.
 They can also choose to opt-out of the service by replying to the text message.
Martin Linforth, senior flood warning and informing advisor for NRW, said:
"The message was sent to O2 customers who live in areas identified as at high risk of flooding.
"Once registered, people will receive a message directly to their mobile if a flood warning is issued for their area in the future – giving them vital time to prepare.
"We urge anyone who has received a text to stay registered to the service and learn what to do if they receive a warning."
Warning people by phone first began in 2010 when NRW's predecessor Environment Agency Wales, in partnership with the Environment Agency, worked with BT to access and automatically register landline phone numbers in high risk areas.
This resulted in more than 40,000 addresses that hadn't previously signed up to the service getting direct flood warnings by March 2017.
As mobile telephones became more popular NRW also started working with four mobile providers.
The first agreement was with EE which resulted in a further 15,000 properties being added to the flood warning service by June 2017 and NRW is working with Three and Vodafone to extend the service even further over the next six months.
Martin added:
"Before the O2 messages were sent out, nearly 109,000 Welsh properties were already registered to receive the flood warning service through Floodline.
"We are continuing to look at ways to increase this number while improving our understanding of flood risk to focus warnings on the areas and people who need them.
"Being registered for flood warnings can give people advance notice of flooding and some crucial time to prepare.
"And remember, if you aren't on the O2 network you can visit the NRW website to check if your home is at risk of flooding and sign up for free flood warnings."