Mountain bike world champion set to open new skills track in Mid-Wales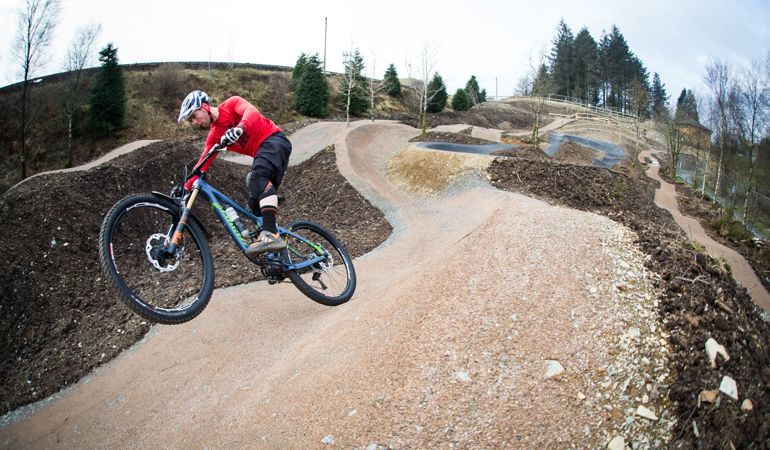 Natural Resources Wales (NRW) will be celebrating the opening of their new mountain bike skills track with multiple mountain bike World Champion, Rachel Atherton.
The £30,000 investment at Bwlch Nant yr Arian, near Aberystwyth, is being officially opened with a day full of activities on Saturday 4 March from 10am.
The new purpose-built track is a chance for people of all ages to practice their technique or just warm up before hitting the longer trails which start from the visitor centre.
The site has been carefully selected so it doesn't affect the other trails or the view of the lake.
Julian Barnes, Mid-Wales Team Leader, Natural Resources Wales said:
"We're proud to look after such a special site where people can get active, get healthy and enjoy everything that nature has to offer.
"This new track has a number of loops with things like rollers and table tops, so all riders can have fun and practice their skills."
"Bwlch Nant yr Arian is great for mountain biking, but it is also a fantastic place for people to go walking, running and horse riding."
NRW has been working with Summit Cycles, who are based in Aberystwyth, to arrange this joint launch event.
People are welcome to the visitor centre from 10am to try out the track and look around mountain bike stands from Summit Cycles, Trek Bikes, and Ystwyth Cycling Club.
Rachel Atherton will be officially cutting the ribbon at 11am, alongside NRW Board Member and Deputy Chair, Dr Madeleine Havard.
There will also be a prize giveaway where one lucky visitor will walk away with a Trek Ticket Dirt Jump Bicycle frame worth £600, as ridden by Atherton Racing.
Julian continued,  
"Our environment in Wales is worth at least £8.8 billion to the Welsh economy every year – and we hope this exciting new track will help bring even more people to the area.
"The official opening will be a great way to celebrate this new addition with visitors and locals."
The usual daily feeding of the Red Kites will still take place at 2:00pm.
Keep up to date with the launch event schedule and find out the latest news by following Bwlch Nant yr Arian on Facebook. 
Photo Credit Isac Paddock