Natural Resources Wales helps 'lift' long-term unemployed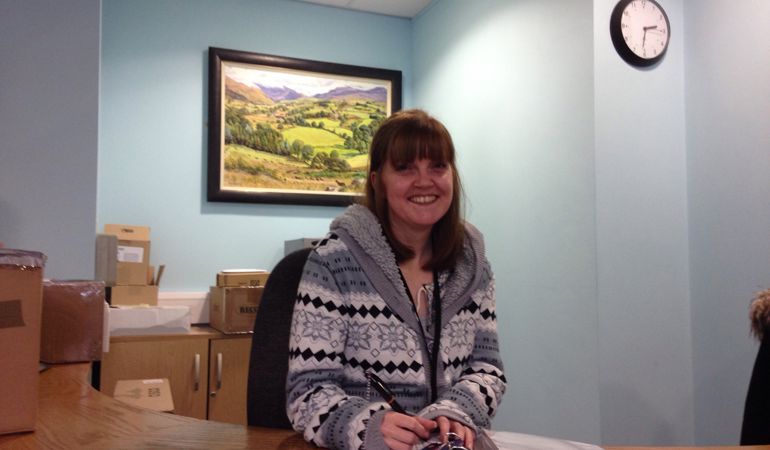 Natural Resources Wales' (NRW) Bangor office is the latest location to provide training and work experience for the long-term unemployed, under the Welsh Government's Lift programme.
Rachel Scobie from Holyhead is NRW's latest Lift placement. She has joined staff at NRW's North West Wales office, working as a receptionist and fleet assistant for ten weeks.
Rachel's duties include assisting with NRW's fleet vehicles, meeting and greeting visitors, and a range of administrative duties to support staff.
 Nearly 350 people have already been supported by the Lift programme in Anglesey, with 112 of them successfully finding jobs after the scheme.
Rachel said: "It's good to get the opportunity to learn and practice new skills in an office environment and supporting NRW staff in their work. The work is really varied and I'm enjoying it. I'm also enjoying the social aspect of being in an office environment.
"I also do voluntary work and am working towards qualifications in office administration and customer service, through Môn Communities First, to get skilled up. I hope everything together will open up new job prospects for me."
By the end of 2017, the Welsh Government's Lift programme aims to provide 5,000 training and employment opportunities for people living in households where no-one is in work.
Over the next 18 months, NRW aims to provide 30 Lift placements Wales-wide. More are planned in the coming months for Cardiff and Llandarcy.
Emyr Roberts, NRW Chief Executive said: "Working alongside our staff, I hope Rachel - and the others that will join us over the coming months - will benefit from the training and work experience.
"It's an opportunity to gain new skills that will put them in a better position to find longer-term employment."
Welsh Government Cabinet Secretary for Communities and Children, Carl Sargeant said: "The Lift Programme is a key part of our approach to tackle poverty in Wales, supporting some of our most disadvantaged households. I'm delighted that NRW is supporting the Programme by providing valuable training and work experience which will help participants move into employment."
The Lift programme focuses on people living in households where no one has worked for at least six months and who face the greatest barriers to becoming employed. The programme is being delivered in nine areas across Wales.
Since its launch in March 2014, the Lift programme has already provided almost 4,100 training and employment opportunities, including 842 people supported into employment.
The Lift programme on Anglesey is delivered by Anglesey Communities First. Each participant is assigned a mentor to support them through the whole process.