New and improved mountain bike trail for beginners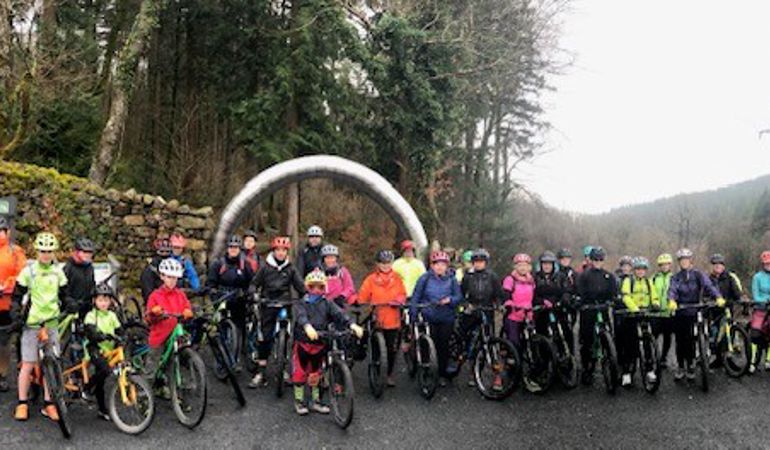 One of Wales' most popular mountain bike trails has been made even bigger and better by Natural Resources Wales (NRW).
The MinorTaur trail at Coed y Brenin Forest Park, near Dolgellau, is used by more than 35,000 riders each year.
Designed to suit all abilities the trail already has three loops that get progressively longer and more challenging - helping people improve their skills and confidence as they ride.
And now NRW has unveiled a fourth loop which includes several technical features, such as jumps and drop offs. 
Andy Braund, Mountain Bike Ranger for Natural Resources Wales, said:
"MinorTaur is by far the most popular mountain bike trail that we manage on the Welsh Government Woodland Estate.
"It is particularly unique because the first three loops can be used by disabled mountain bikers on adaptive bikes.
"We've designed the new fourth loop to have more shape and flow with the trail features closer together, providing a lot more fun.
"It's perfect for people who want to hone their skills before tackling the more difficult red grade trails."
"We're proud to look after so many trails that help people get active outdoors and contribute to the local economy."
MinorTaur includes features familiar to mountain bikers such as stone steps, rollers, table tops, berms and jumps.
The trail was officially opened during the 'Jr Antifreeze kids MTB challenge' organised by Beics Brenin on 16 and 17 March.
And it went down a storm with junior riders trying out the new loop. 
The funding has been made available through the Tourism Amenity Investment Support scheme (TAIS), aimed at public, third sector and not for profit organisations for investment targeting small scale infrastructure (visitor amenity) projects in the tourism sector in Wales.
This project has received funding through the Welsh Government Rural Communities - Rural Development Programme 2014-2020, which is funded by the European Agricultural Fund for Rural Development and the Welsh Government.
Coed y Brenin, managed by NRW, also provides trails for walking, running and orienteering.
People can keep up to date with events by following Coed y Brenin on social media or visit Natural Resources Wales website.