New cutting edge facility for Wales and beyond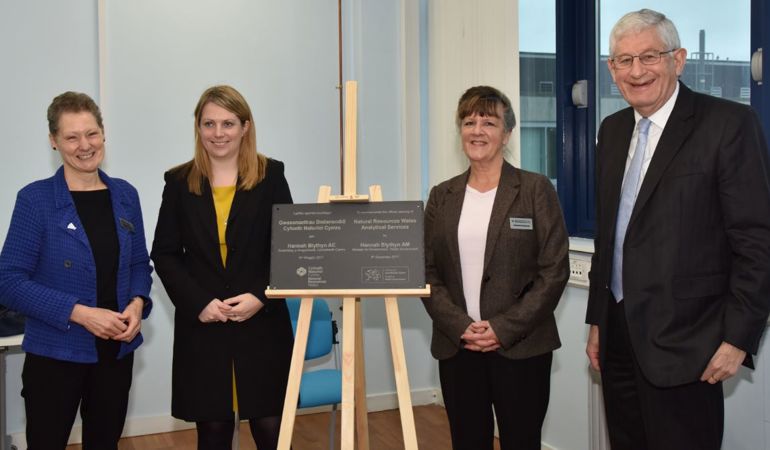 Today (6 December, 2017), Natural Resources Wales' (NRW) brand new facility for scientific analysis was officially opened on the Swansea University's Singleton Campus by the Minister for Environment, Hannah Blythyn AM.
The new Analytical Services facility is located in the Faraday building, and houses over 30 professional and experienced staff that carry-out essential environmental testing and analysis work for NRW, such as testing the quality of the water from our beaches every summer.
The facility is accredited by UKAS, the national accreditation body for the United Kingdom.
In addition, the Analytical Services facility is looking to offer the services it provides to NRW, to a wider commercial client base from Wales and beyond.
Dave Gazzard, Analytical Services Manager at Natural Resources Wales, said:
"Our new world-class facility will help our staff with the important work we do at Natural Resources Wales for the people, economy and environment in Wales.
"For example, we test more than 2,000 samples of bathing water collected by our staff every year. We monitor where there may be problems, and help make sure the waters on our beaches are safe for us to swim in.
"We also investigate incidents, such as illegal waste sites and pollution, so we can tackle illegal activity.
"With our fantastic new facility, we will not only accommodate current needs and future growth, but offer unlimited opportunities for joint research ventures between NRW and Swansea University."
The organisations will work together to improve the quality and breadth of evidence used to inform NRW decisions and allow the University staff and students to play a significant role in positively shaping the Welsh environment.
Hannah Blythyn, Welsh Government Minister for Environment, said:
"Our ground-breaking Well-being of Future Generations and Environment Acts require new and innovative ways of working. This includes different organisations working together to help us achieve our goals to improve the resilience of our ecosystems and the nation's well-being.
"This venture between NRW and Swansea University demonstrates this collaborative ambition and provides valuable employment opportunities for South West Wales."
Professor Richard Davies, Swansea University Vice Chancellor, said:
"Swansea University has a vibrant international community of conservationists, bio scientists, bio engineers, and chemists.
"The University's partnership with NRW, along with our new chemistry department, provides synergies and greater capacity to nurture and protect the environment for the benefit of future generations in Wales. "This collaboration between a Government sponsored body and the University is a good example of how Wales can work as a 'small, smart, agile' Country."