New Environment Act in action at Pen y Cymoedd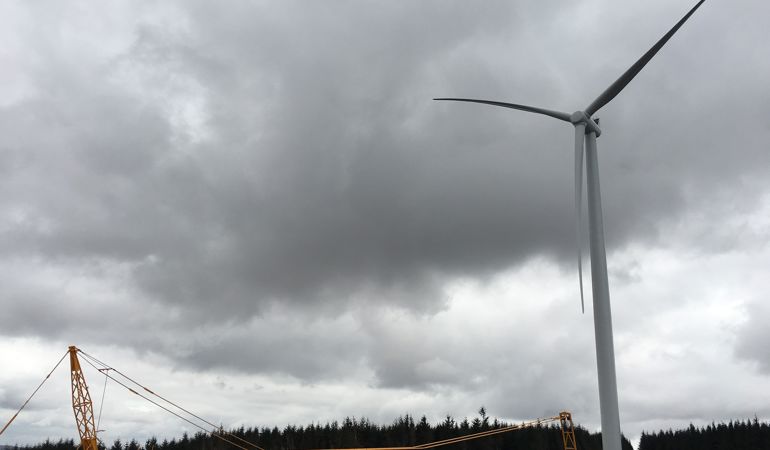 Natural Resources Wales' (NRW) leaders have heralded the Environment (Wales) Act coming in to force as a once-in-a-lifetime opportunity to drive more joined-up thinking in natural resource management in Wales.
Visiting the Pen y Cymoedd Wind Energy Project, NRW's chief executive and chair saw at first-hand how new powers granted to the organisation in the Act can benefit the people, nature and the economy of the south Wales valleys.
At the project by energy company Vattenfall, the NRW bosses saw the progress of the 76-turbine development located on land managed by NRW in Rhondda Cynon Taf and Neath Port Talbot.
The project will not only generate enough electricity to power 140,000 homes every year, it's also creating jobs, providing a £1.8m / year community fund shaped by local people, for local people, and investing money into habitat restoration and nature conservation.
The project provides an annual income to the Welsh Government as landowners. In addition, NRW is working closely with Vattenfall to design optimal peatland habitat restoration and the exciting new £350,000 Blade mountain bike trail at Afan Forest Park, and also secure funding for tree planting to compensate for woodland loss.
The new powers given to NRW in the Environment (Wales) Act, which come into force tomorrow (Saturday 21 May) will ensure that air, land, water, wildlife, plants and soil are sustainably managed to improve Wales' well-being, and provide a better future for everyone.
Emyr Roberts, Chief Executive of Natural Resources Wales, said:
"It's clear to see that effective collaboration with businesses such as Vattenfall, delivers energy security and wider benefits for the people of Wales.
"This project shows joined-up thinking at work – and how we can generate multiple benefits from taking a wider perspective when planning and delivering our work.
"Tomorrow is an important day for us, because the Environment Act will drive more of this sort of collaboration. We now have a duty, when working on projects like these, to look for wider benefits, and the peatland restoration and new mountain bike trail are excellent examples of this.
"This is a once-in-a-lifetime opportunity for us in Wales and this project shows how we can work in the future to deliver multiple benefits for people, nature and the economy."
Will Wason, Vattenfall's Project Director at Pen y Cymoedd said:
"The innovative collaboration developed with NRW at Pen y Cymoedd delivers winning results for the area and Wales as a whole, including making a big reduction in our carbon emissions.
"Vattenfall is proud to offer a blueprint for the kind of joined-up working the Environment Act will encourage.
"Wind is a significant resource that Wales can harness, if there is a long term route to market for clean power. We're pleased to align with the Welsh Government's commitment in this area."