NRW reminds farmers of slurry guidance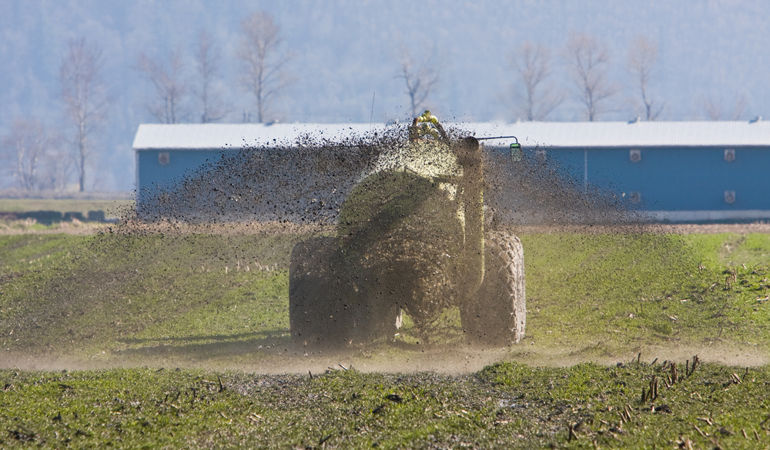 Natural Resources Wales (NRW) is encouraging farmers, landowners and contractors to follow best practice guidance on spreading manure and dirty water during the ongoing wet and wintry weather.
The Code of Good Agricultural Practice recommends that farmers should not apply livestock manure and dirty water when heavy rain is forecast within the next 48 hours or when the land is:
waterlogged
frozen hard
covered with snow
cracked down to field drains
pipe or mole drained or sub-soiled over drains in the last 12 months
Bob Vaughan, Sustainable Land Manager for Natural Resources Wales, said: "We understand the difficult situation which farmers can face with slurry at this time of the year.
"We want to work with farmers to make sure they get the most out of the valuable nutrients in their slurry whilst also making sure that no slurry enters watercourses.
"The Wales Land Management Forum, which includes NRW, is working with Farming Connect to provide more support and guidance to help advise farmers and contractors.
"Farming Connect can offer practical advice, identify improvements and find simple, cost effective solutions to problems with storing slurry and manure.
"They can also provide advice about the importance of preparing a contingency plan before anything goes wrong.
Bob Vaughan continued:
"Slurry and manure are an important on-farm financial resource, providing valuable nutrients.
"Unfortunately, slurries and manures are also pollutants if they enter watercourses; affecting water quality, stripping oxygen from water, and killing fish and other river life.
"These same streams and rivers provide us with a huge range of benefits in Wales - including a clean drinking water supply, water for business use and recreation opportunities.
"This is why we all need to play our part in ensuring that we have a healthy water environment."
Most farmers have a manure management plan and this will identify where it is safe to spread livestock manures and dirty water to avoid causing water pollution.
Farmers who use contractors should ensure they are aware of the pollution risks on the farm and use safe application rates and methods.
Bob Vaughan concludes:
"If something does go wrong and slurry or manure has entered, or is at risk of entering a stream or river, farmers are asked to report it straight away to NRW on 0300 065 3000.
This is a 24 hour pollution hotline where duty officers will always be on hand to give advice, so that farmers and NRW can work together to respond to a problem. The sooner any problem is reported, the less damage it is likely to cause."
The best practice guidance can be found in Chapter 5 of the Code of Good Agricultural Practice is available at https://gov.wales/code-good-agricultural-practice.
For further advice on support available through Farming Connect call 0845 600 0813 or visit www.gov.wales/farmingconnect