Operation set to remove diseased larch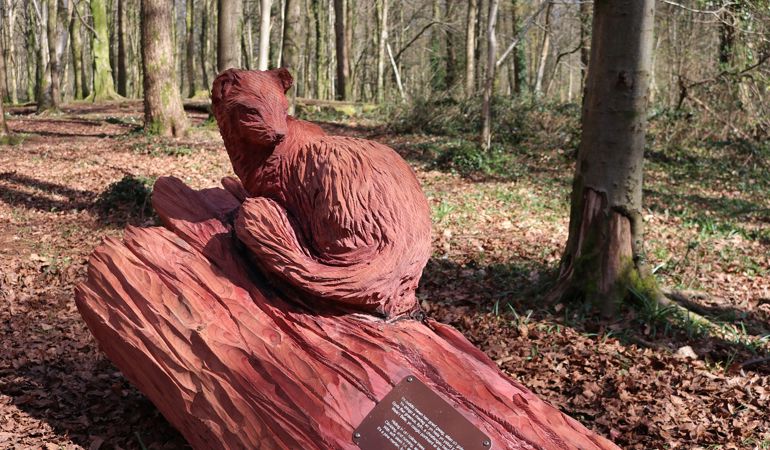 Contractors working on behalf of Natural Resources Wales (NRW) will begin to remove diseased larch trees from Fforest Fawr, Tongwynlais, Cardiff, during the first week of September.
This is the first phase of a major operation which will see approximately 4,000 larch trees removed from the forest. It is estimated to take approximately six months, and during this time large areas of the forest will be closed off for people's safety.
As the work gets underway, NRW's car park will also close for three weeks while contractors fell areas of larch so a footpath diversion can be opened safely.
The diversion will run along the forest's new sculpture trail to allow people to maintain some access to the forest during the operation. It will be clearly identified on maps located around the forest and on our website.
This week, people using the forest may notice some smaller scale work taking place on a number of larch trees which will be difficult to fell due to their location. Instead of felling these, the crown of the tree will simply be removed, leaving the stump. This will not affect anyone using the forest.
Live harvesting sites can be incredibly dangerous places, so tracks leading to the operational area will be closed off. Visitors to the forest are asked to please adhere to signs and diversions for their own safety.
Mike James, Local Area Manager from NRW said:
"Fforest Fawr is a well-loved woodland, and always a popular place to visit, so we're going to do everything we can to keep areas of the forest open while we undertake this important work.
"Larch disease has had a dramatic impact on our forestry in Wales, and it's always sad to see trees removed under these circumstances.
"However, it does present us with opportunities to improve the way we all use the forest for the future. After the felling has taken place, we'll be keen to speak with people about how we can create better access for walkers, cyclists and horse riders, so people can continue to enjoy the woodland for years to come."
After the harvesting has taken place, NRW will monitor the woodland's recovery and encourage native species such as beech, oak, birch, wild cherry, rowan and hazel in the forest to naturally regenerate. Fforest Fawr has very fertile soils and a good seed source, so it is unlikely that any additional replanting will be required.
The second phase of felling is currently scheduled for 2021.
Related document downloads