Proposed salmon byelaws to be postponed until 2019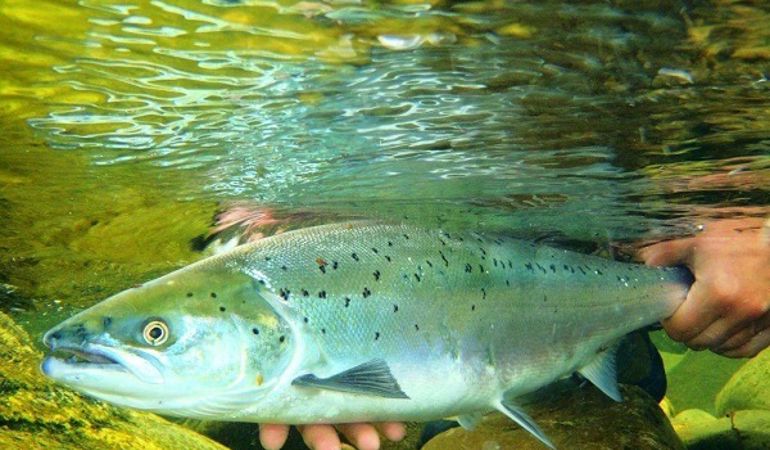 New fishing byelaws have been proposed which will make it mandatory for fishermen to release all salmon caught in Welsh rivers.
The procedures for introducing new byelaws are protracted and Natural Resources Wales wishes to avoid uncertainty for fishermen by delaying implementation of approved new measures until the 2019 fishing season.
The proposed all Wales byelaws, which include restrictions on fishing methods to help the survival of released fish and reduced net fishing seasons, are currently being considered by Welsh Government.
Dave Mee, Senior Fisheries Advisor for NRW, said:
"At the moment timescales for a decision are uncertain, so we are proposing that introduction of any new measures should be postponed until the beginning of the 2019 rod and net seasons.
"We hope this will help clarify the situation for anglers, netsmen, fishery owners and clubs and associations."
Welsh salmon stocks remain in a perilous condition. Although the mandatory catch and release proposals have proved unpopular with anglers, NRW firmly believes that they, along with other measures such as tackling agricultural pollution, improving water quality and managing the potential threats from predators are vital for the future survival of these iconic fish.
Peter Gough, Principal Fisheries Advisor for NRW added:
"This delay is a pragmatic solution to resolving current uncertainty.
"However, it is important to note that this does not mean there will be further debate on the subject as NRW has concluded its position and the case for further controls has been made and presented to Welsh Government and it remains unchanged.
"Protection of the breeding resources of these wonderful fish is a fundamental part of our work to manage this important natural resource sustainably."
Catch and release
This season, fishermen are again being asked by NRW to practice full restraint and ensure conservation of fish stocks by voluntarily releasing all the salmon they catch in 2018.
Dave explained:
"Our salmon stocks are in serious trouble and have fallen to historically low levels and the same is true of about half of our sea trout stocks.
"Neither species can sustain uncontrolled killing of fish and so we are again asking all anglers to release all of their salmon.
"Most anglers are already voluntarily releasing the fish they catch, but some are not. We feel the situation is now so serious for salmon that we must ask all anglers to help preserve as many fish as possible by returning all their salmon.
"It's also very important to take great care of returned fish. Fishing methods and tackle should be used that ensure fish have a high probability of survival, they should always be kept in the water while unhooking to ensure they can swim away strongly."