Rare plants now thrive in former copper site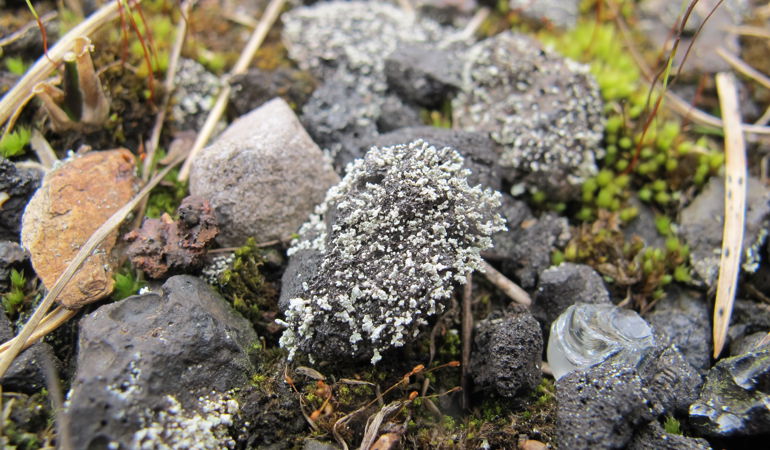 A range of rare plants are now thriving in one of the most industrialised sites in South Wales after work was carried out to enhance the area.
Natural Resources Wales (NRW) worked in partnership with Swansea Council and Buglife Cymru to restore the site after rare plants which thrive in land contaminated by metals were discovered.
The site is known to be home to rare mosses, lichens and sandwort, a flower only known from two sites in South Wales.
The Six Pit Swansea Vale and White Rock in Swansea was formally an old copper smelting area known as Copperopolis. This left behind an open habitat where the soils have high levels of heavy metals such as lead, chromium or copper.
Areas of the land were opened up and scrub along the railway line was removed, helping to restore and connect the habitat for bees and other pollinators. This also improved access to the cycling path. Waste material was also cleared, and the rare plants were reintroduced to the area.
Kerry Rogers senior conservation officer at Natural Resources Wales said:
"The work to preserve the area is a great example of partners coming together to protect and enhance an important site for Wales' natural heritage. It shows how natural diversity can come in many forms.
"Removing the scrub and opening up the area helped us to promote a good habitat for bees and insects as well as the rare metal-loving plants and improved access for people by opening up the cycling path.
"We're now looking at how we can use the site for educational purposes by setting up a geo-cashing project with the local schools."
Sean Hathaway for Swansea Council said:
"It is important to look after and protect our valuable wildlife sites not only for the sake of the plants and animals themselves but also for the community to visit and enjoy."
Clare Dinham Wales Manager for Buglife Cymru said:
"We were really pleased to work with NRW and Swansea Council to enhance the biodiversity of these sites and improve habitat connectivity within the lower Swansea Valley as part of the South Wales B-Lines project.
This area is a haven for wildlife located within an urban setting and demonstrates the important role that brownfield sites can play in nature conservation. The site also lies within a B-Line  corridor – a Wales wide landscape scale habitat connectivity corridor for pollinators and other wildlife."
The site was declared by NRW as a Site of Special Scientific Interest (SSSI) in late 2017 after the rare plants were discovered.
Thirteen specialist species of lichen have been recorded on the SSSI, which is a third of all the types of metal-loving lichens in Britain.