Slurry pollution kills fish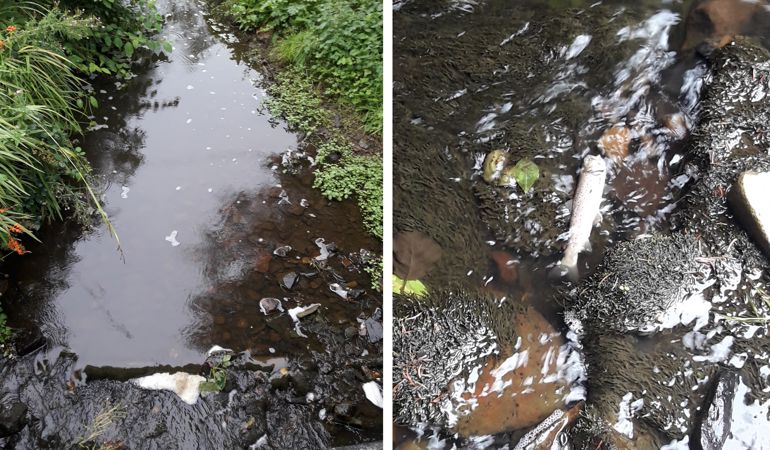 Natural Resources Wales (NRW) is investigating an incident following reports received on Thursday (2 August) of pollution in an unnamed tributary of the Afon Marlais, near Narberth in Pembrokeshire.
Officers have attended and confirmed that slurry was entering the watercourse, with at least two miles of the river affected, with an estimate of more than 1,000 fish killed.
The source of the pollution was a leak from a slurry lagoon at a local farm.
Slurry is a strong pollutant removing oxygen from the water, killing fish and other river life such as water insects.
Following advice from NRW officers, the farmer started emptying the lagoon yesterday and is being tankered away by contractors.
Work is continuing today (3 August) to empty the lagoon entirely and it is anticipated that there will be no further pollution from this source.
NRW officers have confirmed that no more slurry is entering the river and it is beginning to run clearer.
Andrea Winterton, Operations Manager for NRW, said:
"It is concerning that slurry pollution incidents from farms continue to affect the natural environment in Wales, especially our rivers.
"Our officers will be monitoring the situation and will further assess the impact on the fish, river life and the wider environment. We will of course also be taking appropriate enforcement action.
"We're aware people have been collecting dead fish in nets - we advise people not to eat them.
"We are keen to continue to work with the farming industry to improve working practices on farms to prevent incidents like this from happening.
"We are currently recruiting eight new posts to help prevent pollution across Wales.
"Prevention is much better than cure, but some incidents still happen. And if they do, the best thing any farmer or contractor can do is contact us immediately by calling 0300 065 3000 so we can work with them to minimise the damage."