Small changes for big improvements in water quality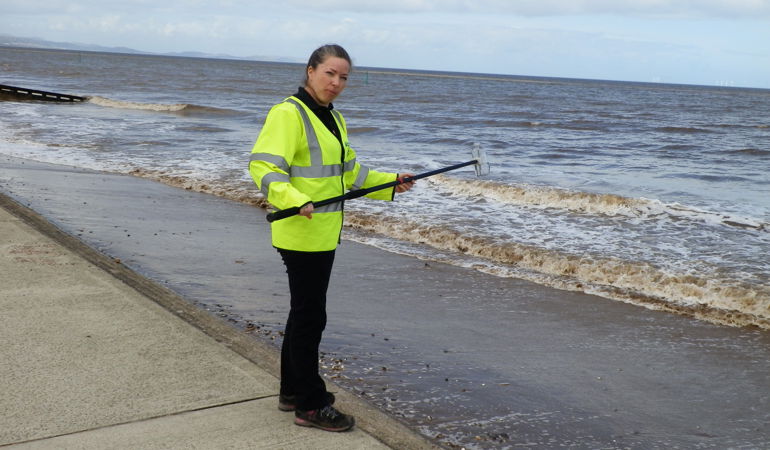 A drive to improve water quality in a North Wales river that affects the bathing water of a popular seaside town is underway.
Natural Resources Wales (NRW) is redoubling its efforts to work with farmers along the river Clwyd to reduce pollution from agriculture, which can have a detrimental impact on Rhyl beach.
And the message is that small changes in farm practices can make a big difference to water quality in nearby streams, rivers and coastal waters.
Over the coming months, NRW staff will visit more than 400 farms in the lower Clwyd area, providing advice on how best to protect the river from agricultural pollution.
Measures include making sure slurry is managed and spread carefully, avoiding run-off from compacted soil, preventing stock from entering streams, controlling run-off from dairy tracks and ensuring clean and dirty water are kept separate.
As well as advice, NRW officers will steer some farmers towards Welsh Government grants if they need specific help to improve pollution prevention.
Bethan Beech, NRW Team Leader for Denbighshire said: "North Wales benefits from a stunning environment and our coastline is enjoyed by thousands of local people and visitors.
"One of our priorities is to maintain and improve the water quality of bathing waters and Rhyl Beach is a key area of work for us.
"In recent years, we've ensured improvements in major sewage infrastructure in the lower Clwyd, including Welsh Water's assets, private dischargers and urban drainage.
"But we know there is more that can be done to reduce small-scale pollution from agriculture.
"By making lots of small, individual improvements I hope we can enjoy cleaner rivers and bathing waters."
This initiative is supported by the Farming Unions in Wales:
Paul Williams, Clwyd County Chairman of NFU Cymru, said: ''Farmers take their environment responsibilities seriously and we are pleased to work with the partnership of organisations to support farmers to take action to improve water quality where this is needed.''
Gavin Williams, FUW Land Use Committee Chairman and representative on the Wales Land Management Forum, said:
"I know that the FUW have been collaborating with other stakeholders in the sub-group on agriculture pollution of the Wales Land Management Forum, to explore ways of mitigating point-source and diffuse pollution.
"No farmer wants to pollute surface or ground waters and we will continue to explore ways to enhance water quality in Clwyd and across Wales."
NRW is also working with Farming Connect to give more support and guidance to help advise farmers and contractors.
Farmers will be invited to local meetings in prioritised areas and a national awareness programme will be launched shortly.
Farming Connect can identify improvements, offer practical advice and find simple, cost effective solutions to problems with storing slurry and manure.