St. Asaph temporary flood defences part-installed to speed up response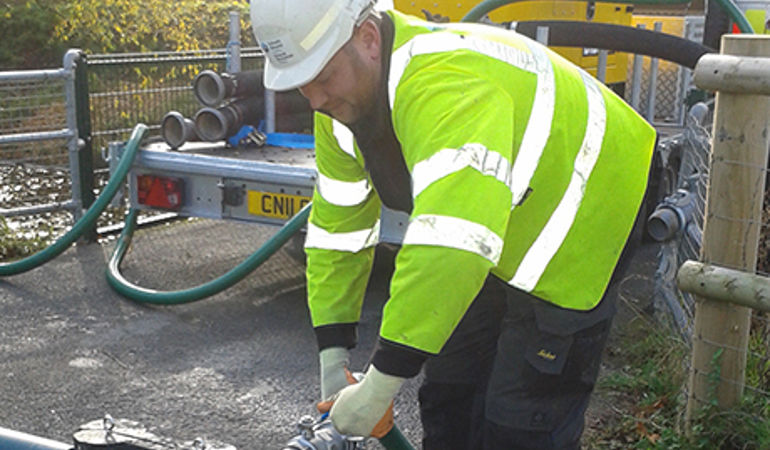 Natural Resources Wales will part-install the temporary flood defences in St. Asaph this week to speed up the process if there is an increased risk of flooding.
The move will mean that 70% of the temporary flood defences will be in place as a precaution in Roe Parc until the beginning of April.
River levels on the Elwy are monitored 24 hours a day and if river levels rise and flooding is predicted teams will be able to install the temporary flood defences much quicker.
Residents who are registered to receive the Flood Warning for the River Elwy A55 to Rhuddlan will be informed when the temporary flood defences are fully installed during a flood to provide extra peace of mind.
Sara Pearson, Operational Delivery team leader for Natural Resources Wales, said:
"The flooding of 2012 brought misery to the lives of hundreds of people in St. Asaph and these temporary flood defences can provide an added level of protection.
"Part-installing the temporary flood defences will really cut down on the time it takes to install them and leave our workers to be deployed elsewhere to help protect other areas.
"We are continuing to work towards a longer term solution to reduce the risk of flooding in St. Asaph but these short-term measures will also help."
Construction work took place in April last year that would enable emergency response workers from NRW to install the temporary flood defences.
A 10m section of wall was raised and new concrete strip foundations were constructed along 80m of the existing embankment.
This meant that a half-metre high temporary flood defence could be installed quickly along a 40m stretch of the Elwy.
This provides a higher level of protection for homes in the Roe Parc and Spring Gardens areas which suffered severe flooding in 2012.