The benefits of enjoying the great Welsh outdoors!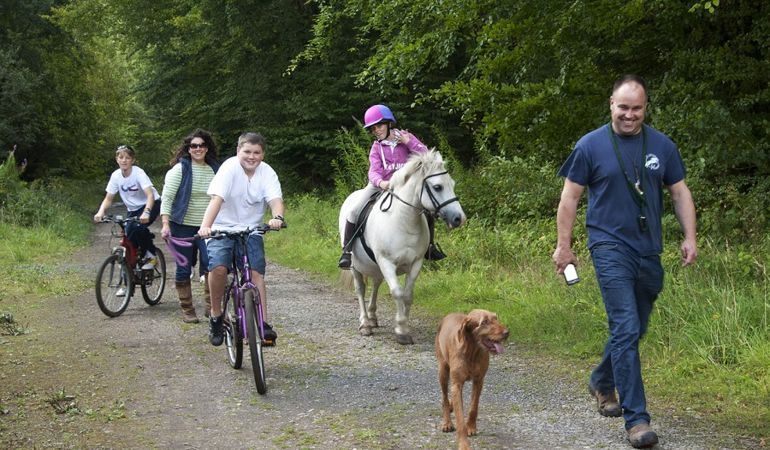 Enjoying the wonderful Welsh outdoors is a hugely popular activity with people, a new survey has revealed. And it's not just for fun, outdoor recreation is also great news for our health and economy.
The results of latest Welsh Outdoor Recreation Survey (2014), commissioned by Natural Resources Wales, have just been published and they show that a massive 93% of Welsh adults visited the outdoors at least once in the last 12 months.
Sue Williams, Head of Social Science for NRW, said:
"The survey provides us with a definitive picture of how we, as a nation, spend our leisure time, what activities we most enjoy, why we do them, and which places we love visiting.
"Most importantly, it shows the significant benefits that outdoor recreation brings to the Welsh economy, and to our health and well-being."
A representative sample of adults living in Wales were interviewed for the survey which looks at leisure time activities in a wide range of places including mountains, farmland, local parks, rivers, beaches and the sea. More than 19 different activities were included from hill walking to picnics, covering both urban and rural pursuits.
The survey also compares the data from the 2014 survey with the previous 2011 and 2008 surveys to identify changes in how we use the outdoors and the benefits that this brings.
Sue added:
"Taking part in any form of outdoor activity has a multitude of health benefits and so it's not surprising that 68% of respondents revealed they carried out their activity at a moderate level of intensity.
"It is also the most important reason why people visit the outdoors, with the most commonly mentioned motivation being for 'health and exercise". From walking to cycling, this survey shows that the outdoors clearly is 'the people's gym'."
And it's not just the nation's health that's improved by outdoor activity – its bank balance is given a much needed boost as well with £5.6bn spent on visits to the outdoors by people living in Wales – an average of £12.74 per visit.
Among the survey's other findings are:
Walking remains the most regularly undertaken activity, with 83% of people stating that they had gone for a walk in the preceding 4 weeks
Other popular activities include sightseeing (43%), taking children to playgrounds (35%), and wildlife watching (27%)
Active pursuits, like running and road cycling, have increased since 2008 and remain at a high level
Local parks are the most visited main destination (16% of all visits), followed by woodlands / forests (15%)
Health and exercise (23%) and/or exercising a dog (22%) are the most frequently mentioned motivations for participation in 2014
Physical disability (29%) and health reasons (21%) are the main reasons people did not take part in outdoor activities over the last 12 months
In contrast, people said they were either 'too busy / lack of time' (29%) or blamed 'bad weather' (25%) for lack of participation in the preceding 4 weeks
For the first time the survey also reveals what people think about the environment and biodiversity – the animals and plants which live in Wales.
People were asked whether they were concerned about the future of Welsh biodiversity with nearly half of all respondents (43%) expressing a moderate or high level of concern.
The survey also looks at what do to help protect the environment, ranging from recycling, to wildlife gardening, to active volunteering.
The majority of people had done several of the day-to-day activities, but only a small number (12%) had undertaken some of the activities that required more substantial input such as environmental volunteering.
Sue said:
"Our relationship with our environment is very complex and these results help us understand how we use this wonderful resource.
"We are very lucky to live in a country with such diverse and accessible natural resources and the survey shows that the outdoors plays an important role in many of our lives."
For more information visit:
http://naturalresources.wales/our-evidence-and-reports/welsh-outdoor-recreation-survey/?lang=en