Tree felling in Nant yr Arian to combat disease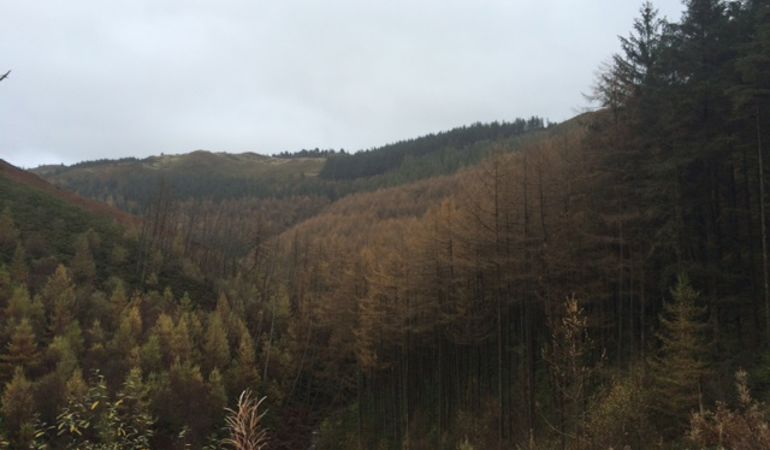 The second phase of a major tree felling operation has now begun at a popular mid-Wales centre to slow the spread of a disease which is attacking larch trees.
The work will remove up to 20,000 trees at Bwlch Nant yr Arian near Aberystwyth which have become infected with Phytophthora ramorum, a fungus-like disease.
Despite this extensive felling work, the visitor centre, which is run by Natural Resources Wales (NRW) will remain open and the red kites will continue to be fed daily from 2pm at the award-winning site.
NRW has already replanted around 12,000 native trees at Bwlch Nant yr Arian since the last phase of major tree felling in 2013.
The area will continue to be replanted with a mix of species including Douglas fir and Western red cedar.
Gareth Owen, Bwlch Nant yr Arian Visitor Centre Manager said,
"We know Bwlch Nant yr Arian has a special place in the hearts of local people and visitors. Unfortunately, we cannot stop this disease from spreading, but we can take action to slow it down. This means felling all the infected trees at Bwlch Nant yr Arian.
"It is sad that we have to fell so many infected trees, but it does provide us with an opportunity to replace them with a range of species and enrich the existing broadleaves."
Some mountain bike and walking trails in the area have planned diversions in place now that the felling has begun, these are clearly signposted and the details are available on NRW's website and on the Bwlch Nant yr Arian Facebook page.
It is vital that people don't enter these areas for safety reasons.
Gareth said:
"We will make sure that parts of the forest will always be open for people to enjoy and we publicise trail closures or diversions as early as possible on our website, social media channels and at the visitor centre."
"There will be increased timber haulage through the car park but it will remain open."
The felled timber will be sent to local sawmills for production where the timber can be used in the construction industry.
This provides an opportunity to recover some of the economic value of the timber which can be reinvested into the Welsh Government's Woodland Estate.
Mid-Wales Contract Manager, Tom Whitchurch, will be writing a blog on the NRW website about his work to fell 34 hectares of larch to fight the spread of the disease, which has infected approximately 6.7 million larch trees in Wales.
Natural Resources Wales asks all visitors to help stop the spread of Phytophthora ramorum by washing boots, and equipment such as bikes, before visiting woodland again.
Sticks or foliage should be left in the woods, and any fallen needles should be brushed from cars before leaving the woodland.