Two gold awards for Natural Resources Wales' foresters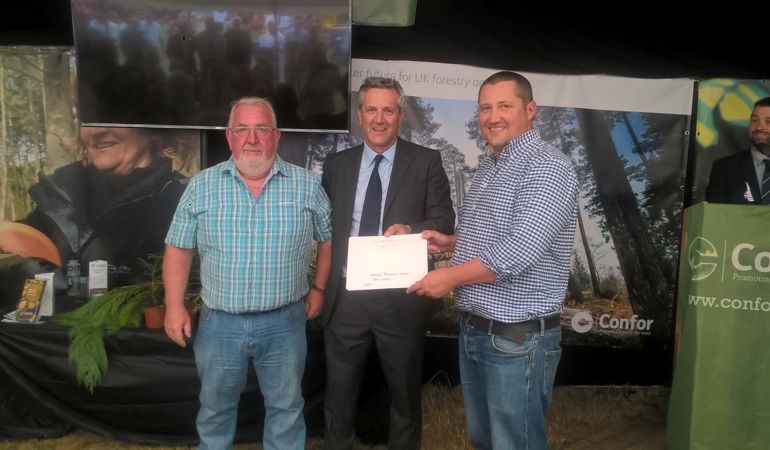 Natural Resources Wales' (NRW) has won two Gold Awards in the Regional Woodland Competition at the Royal Welsh Show.
Competing against estates across South Wales, the work to restore the Afan Valley back to fully productive forests in 'seriously challenging conditions' impressed the award judges.
And work to restore ancient woodlands at Ty'n-y-Coed  using horse logging showed how low impact methods of extracting logs can be used to protect sensitive woodland habitats and wildlife.
The Afan Valley was awarded Gold for Best Managed Woodland over 200 hectares.
Spanning 3,940 hectares (well over 3,000 football pitches) the first infection of Phytophthora ramorum (Larch Disease) on larch trees was discovered in the Afan Valley in 2009.
Up to 20 per cent of the area, which is popular with cyclists and walkers, was affected  with some forest blocks having up to 60 per cent infected.  
This made the felling and restocking one of the largest jobs which NRW's local forestry team has done for around 15 years.
Restocking the area gave NRW the opportunity to diversify crops, moving away from the monocultures of the past to increase biodiversity and forest resilience for the future.
Owen Hoddy, Technical Forester for NRW, said:
"To have our work recognised by the judges is fantastic. Felling and restocking the infected larch trees was a mammoth task, and at the start of the disease we were pretty much in unchartered territory. The Afan Valley was our learning ground.
"We are using the outbreak of the disease as an opportunity to increase diversity as we re-stock the area. In turn this will give the people of Wales more resilient woodlands for the future."
The Ty'n-y-Coed Forest near Creigiau, Cardiff was awarded Gold for the category Best Area Managed Using Low Impact Silvicultural Systems (LISS).
The work involved restoring a Plantation on an Ancient Woodland (PAWS). The site has a mining heritage with many open quarries, as well as restricted access meaning conventional machine harvesting was not an option.
Horses were brought in to extract timber in a way which helped to protect the ground and the natural regeneration of native broadleaf trees that was already occurring.
Conifer species were thinned out to open up the canopy and increase light levels to the forest floor.
Meanwhile thinning around mature broadleaf trees gave them space to grow further and self-seed the open areas.
Jonathan Singleton, Forest Surveyor for NRW, said:
"Due to the difficult terrain and the need to be sensitive to the location, we brought in horses to carry out the low impact conifer felling around the broadleaf and veteran trees.
"At one point there were nine horses working in four teams, which we understand is the largest number of horses logging together in the UK for some years.
"The work we've carried out at Ty'n-y-Coed will help restore it back to ancient woodland, increase bio-diversity and transform it to a more open and inviting woodland, so that more people can make the most of what it has to offer."