Two new running trails open in the Dyfi forest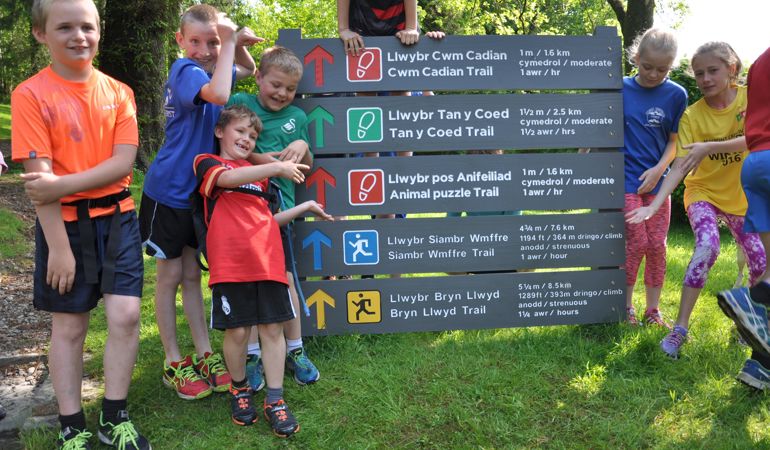 Natural Resources Wales (NRW) is challenging people to run two new trails in the heart of the Dyfi forest.
The Tan-y-Coed trails, along with numerous other routes that wind through Wales' forests, are a perfect escape for runners who are tired of running on the road or in the gym.
They offer a unique running experience with long climbs and steep descents along forest roads and muddy unmade paths over roots, rocks and streams.
The new trails were designed, waymarked and cleared by volunteers from Cerist Triathlon Club, who will also manage the trails in partnership with NRW.
Whether enjoying a gentle jog or training for a long-distance event, running is a great way to keep fit and enjoy the outdoors.
Sian Williams, Operations Manager for NRW, said:
"These two new trails are an epic way to find a new challenge in 2016 as part of the Wales Year of Adventure.
"They join our network of walking and running trails through the beautiful forests that we manage across Wales.
"By working closely with the local running club, we've created a couple of fantastic trails to encourage runners to ditch the tarmac and try something different."
Andy Rowland from Ecodyfi, a local regeneration organisation for the Dyfi valley, said:
"These new trails provide another exciting and challenging outdoor activity to get people active and healthy in the UNESCO Dyfi Biosphere.
"This international status, unique in Wales, inspires people to work together in creating a future we can be proud of.
"The area is a compact playground for those who love fresh air and activity in mountain, fell, riverside, wooded and marine landscapes and habitats.
"To connect people with nature and to strengthen the local economy, we're bringing together local guides and instructors who can help visitors and locals take advantage of these great resources."
The two trails are:
Siambr Wmffre Trail – 4.75 miles
On the steep wooded hillsides of Pantperthog, in the south of the woods.
Bryn Llwyd Trail - 5.25 miles
A steep run through the wooded hillsides of Bryn Llwyd, in the north of the woods.
The trails can be very muddy and trail shoes are recommended. It's suggested that people take adequate clothing, water, map, phone and whistle.
There are plenty of trails to run in Wales. For more information visit www.naturalresources.wales/running