Work starts to reduce the risk of flooding in Dolgellau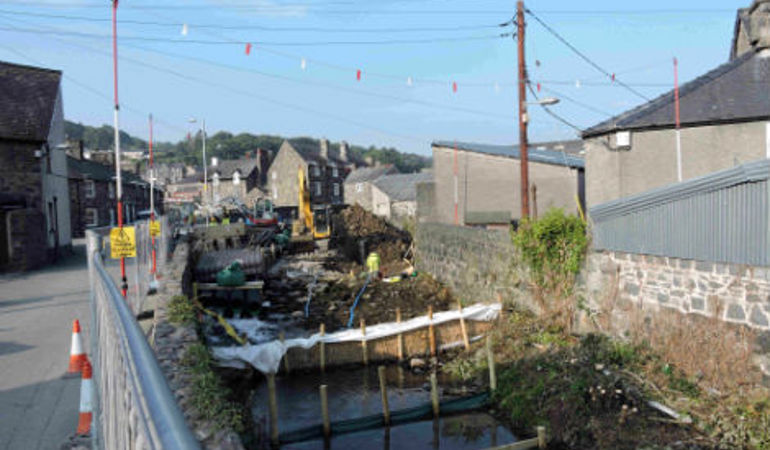 Natural Resources Wales has started work on a scheme to reduce the risk of flooding for more than 300 homes and businesses in Dolgellau.
The work includes putting in new defences and improving some of the existing defences along the left bank of the river Wnion, from the Enterprise Park to the Aran Road area.
The first part of the work will be to remove the Aran weir. Next month work will start to build new walls and repair existing structures along the Afon Wnion and Aran.
The scheme will improve the standard of flood protection to 182 residential properties and 128 commercial businesses at risk from the Wnion and Aran rivers.
Dolgellau has a history of flooding problems, most recently in 2009 where the wall at Bont Fawr was overtopped.
The construction work is expected to take around 9 months to
complete and is funded by the Welsh Government's Infrastructure Investment Plan.
Keith Ivens, Flood Risk Manager at Natural Resources Wales said:
"Having your home or business flooded is a distressing experience and we are working across Wales to help communities.
"This scheme will give hundreds of people who live and work here in Dolgellau better protection and peace of mind.
"However, we cannot eliminate that risk so we do encourage people to register for our free Flood Warning service which can give people valuable time to prepare themselves and their homes. 150 homes in the area have already signed up."
Free Flood Warnings are available on the Natural Resources Wales website, and we recommend that people in flood risk areas sign up to them.
Natural Resources Wales is in regular contact with the local community and will work closely with Dolgellau Town Council to minimise any disruption to the town and local people.
The Dolgellau scheme is being funded by the Welsh Government's Wales Infrastructure Investment Plan.