Work to reduce slurry pollution continues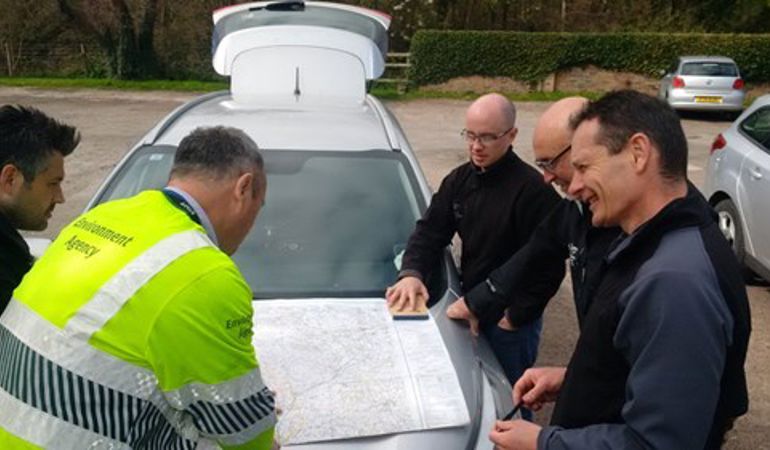 A quick response to a major slurry incident has resulted in averting a serious environmental incident in south east Wales.
Natural Resources Wales (NRW) has been working with the Environment Agency (EA) and Dŵr Cymru Welsh Water, to divert a tributary of the River Honddu upstream of the pollution to reduce flows and slow the spread of slurry. 
A number of ditches have also been dug around the affected areas in an attempt to catch as much of the escaping slurry as possible before it enters the water. 
Thanks to a quick response from NRW, its partners, and prompt action taken by the farmer to report the incident, it is thought that up to three quarters of the 450,000 litres of slurry in the lagoon has been prevented from entering the Honddu. 
NRW and EA experts remain on site assessing the impact of the pollution on fish and other river life in the Honddu. Close monitoring also continues on the Rivers Monnow and Wye, as the slurry continues to travel downstream. 
Early indications seem to show that the actions taken have restricted the worst of the impact to the tributary of the Honddu with only a small number of dead fish currently witnessed. 
At this stage the impact on the rivers Honddu and Monnow appears to be mainly visual. 
Evidence is currently being collected on site for potential enforcement action against the owner of the slurry lagoon. 
Steve Morgan, Operations Manager for Usk and Wye, from NRW said: 
"Our rivers are so important to our wellbeing and our economy, and we're continuing to do everything we can to reduce the impact of this incident on our environment and wildlife. 
"We're already in touch with many, angling clubs and other stakeholders who will be concerned about this incident and we'll keep them in the loop with the latest developments. 
"Once we're happy that the remaining slurry has been dealt with and there is no further risk to the river, we'll be focussing our efforts on how this happened, and what action we need to take against those responsible."