Young people snap top prizes in photography competition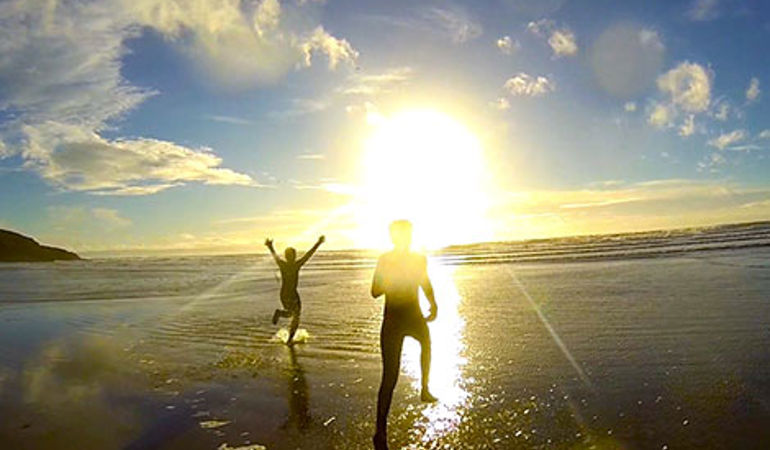 Six young people are taking home prizes after capturing the very best of the Welsh environment through a lens.
With £450 of high street vouchers up for grabs, young people, aged 18 or under, were asked to send in their snaps showing their friends enjoying the natural environment for a Natural Resources Wales (NRW) photo competition.
In the first category, for children aged 11 or under, Jacob Pearce, age 10, from St Mary's and St Patrick's Primary in Maesteg, Bridgend took first place for his moody photo of a kite being flown on a beach amongst a cloudy backdrop.  The judges were impressed by how the photo captured all the natural elements – water, land and air – to create a dramatic image.
Second prize was given to Rosie Drinkwater, Age 10, from Blaen Baglan Primary, in Port Talbot for her loving photo of her sister with a family pet on the beach.  Third prize was given to Elen Hughes, aged 10 from Ceredigion, for her clever photo of her friends shadows while out walking in the countryside.
In the 12-18 year olds category, Sheryl Ewe, Age 17, from Atlantic College in the Vale of Glamorgan, snapped up first prize for her striking photo of friends running into the sea at sundown. The judges were impressed with Sheryl's use of natural light to create a powerful image.
Second place went to Nathan Pycroft, Age 15, from Ysgol Brynrefail in Gwynedd for his sombre greyscale photo of his dog overlooking a valley.  And third place went to Josephine Foong Hui Wen, Age 18, from Atlantic College in the Vale of Glamorgan for her explosive photo of a group of friends leaping into the air on a beach.
Sue Williams, Education Team Leader at Natural Resources Wales said:
"As always, the standard of the entries we've had this year has been astounding, with around 200 children sending us their photos."
"As well as showing us some considerable talent, it's also been great to see children and teenagers getting out and about in our environment and enjoying everything it has to offer – such as trees to climb, waters to swim in and beaches to play on."
"It's important for young people to connect with nature at an early age, so in the future when they grow up, they appreciate its value and take care of it for years to come."
This is the fourth year that NRW has run the competition. The winners of each category will receive £100 in high street vouchers, plus a free school or college trip to their local NRW nature reserve or forest.
The second place winners will both receive £75 in vouchers and the third prize winners will each get £50 in vouchers.